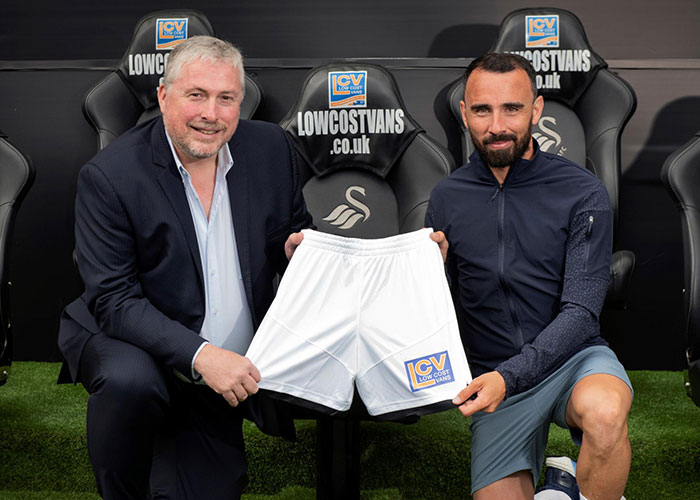 The powerful links between Swansea City Football Club and the area's local community and businesses is at the heart of a video nominated for a prestigious award.
Low Cost Vans (LCV), a Neath-based vehicle leasing company, is featured in a Barclays campaign nominated for 'Best B2B video' at the LinkedIn Marketing Awards 2018 – the winners will be announced on the 5th December via LinkedIn's official channels.
The video features Rod Lloyd, managing director of LCV, talking about the importance and success of the company's sponsorship of the Swans. It was produced in conjunction with Barclays Bank to illustrate how powerful the economic contribution of a football club can be for its hometown.
The awards were launched in 2017 with the purpose of highlighting the best B2B marketing campaigns on LinkedIn in the UK. Barclays's campaign was praised for its tactful use of a small media budget, by segmenting its engagement on LinkedIn and emphasising the importance that business owners attach to local understanding.
Low Cost Vans sponsored the Swans throughout their time in the Premier League, and have increased their commitment to their local team for the latest campaign as the official shorts sponsor. Rod Lloyd has supported the club since his childhood.
Rod Lloyd, managing director of Low Cost Vans, said:
"It is an immense honour for Low Cost Vans to be recognised at such a prestigious awards ceremony, especially by a platform as large as LinkedIn. Barclays have truly captured the essence of what it means to be a business owner with strong ties to your hometown, and how this can be incredibly beneficial on a local and national level. Low Cost Vans is proud to be an official commercial partner of Swansea AFC and I hope that we can continue this flourishing relationship for many years to come."
The winners will be decided by a public vote, which can be voted for here: https://business.linkedin.com/events/marketing-awards