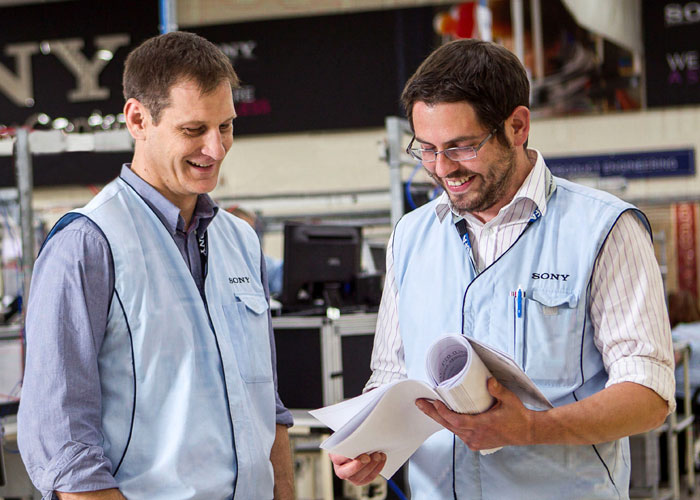 Leading Welsh manufacturer Sony UK Technology Centre is launching a nationwide search for engineering experts "to work at the forefront of cutting-edge innovation".
The Pencoed factory, which produces thousands of HD broadcast cameras for worldwide distribution, is searching for engineers of all skill levels to join its specialist engineering department from this year.
The factory, which has just celebrated its 25th anniversary, is searching for 10 engineers to join its world-renowned team and support production of Sony's industry-leading products alongside third-party technology including the Raspberry Pi.
Successful candidates will get the opportunity to work across the team's vast manufacturing operation, which includes production engineering, software engineering, and mechanical and electrical engineering.
Alongside this, they would also get the opportunity to play an integral role in driving innovation at the Welsh factory, by working on projects focussing on developing manufacturing processes of the future and Industry 4.0.
This recruitment drive comes after the award-winning facility celebrated its manufacturing output rising to over six million products in 2018, a figure driven by success across both its core production and third-party businesses.
Gerald Kelly, director of professional services at Sony UK TEC said this was "an unmissable opportunity to work with an internationally renowned manufacturer" at an extremely progressive time.
He said: "Sony UK TEC has entered an extremely exciting phase in its history, celebrating both our 25th anniversary in Pencoed, and seeing manufacturing output reach record levels in 2018.
"As such we felt this was the right time to expand the level of talent and skill in our highly successful engineering teams, which are so crucial to the continued success and progression of our factory.
"This is an unmissable opportunity for anyone in the engineering industry looking to work at the forefront of cutting-edge technological innovation. Our engineers are among the most skilled and celebrated in the industry and consistently push the boundaries of manufacturing innovation.
"As such we'd urge anyone looking to take the next step into a rewarding career, with endless opportunity for growth and career satisfaction, to apply to Sony UK TEC today."
Applications are now open with the closing date for graduate position applications on 15th November 2018. Skilled engineers should demonstrate relevant experience within the industry, while graduates require a minimum of a 2:1 degree in any discipline.