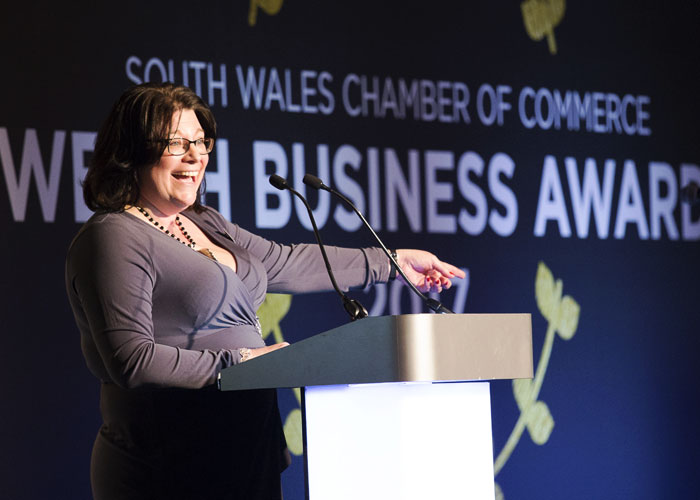 Businesses from across Wales are encouraged to enter the prestigious Welsh Business Awards 2018 ahead of the forthcoming deadline.
With less than a month to submit their entries for the awards, entrants are now urged to enter the awards, before the deadline on Friday 7 December.
The Welsh Business Awards by the South Wales Chamber of Commerce aim to celebrate innovative and successful businesses across Wales. Over the years, the awards have increased in popularity and cemented their place in the Welsh business calendar.
Heather Myers, CEO of South and Mid Wales Chambers of Commerce, said:
"Being recognised by these prestigious awards not only gives you the chance to celebrate all the work and commitment you and your team have put in, but it also increases your market profile, creates confidence in your business and separates you from your competition.  Several previous winners have gone on to win national recognition at the British Chambers Awards, so the stakes are high."
She continued:
"There are so many successful businesses in Wales that have a genuine chance of walking away with an award, who we want to encourage to apply. The Welsh Business Awards are there to tell your story, promote your success and help you increase your sales.

"The only thing stopping the possibility of your business winning, is if you don't enter. I'd encourage everyone not to overthink it and just give it a go, as you have nothing to lose."
Toni Hall, Founder of Banter Cards was named Young Entrepreneur of the Year at the 2017 awards. Toni said:
"Winning the award boosted our employee's confidence immensely.  Since we had worked non-stop for the last three years, the award demonstrated to everyone that our commitment to Banter Cards really pays off. It's been a great marketing opportunity for us and has helped us raise our business profile."
Nick Blakeney, Managing Director at GE Aviation Wales (winner of last year's Commitment to Skills & People Development Award) said:
"Awards are a great way to demonstrate business excellence, particularly when they're hosted by an organisation with the scale and reach like the South Wales Chamber of Commerce.  The Awards were a highlight for us as it rewarded our team and showcased our commitment to existing and future employees."
There are 10 categories for businesses to enter, including:
Commitment to Customer Service;
Commitment to Skills & People Development;
Excellence in Community Relations;
Excellence in Environmental Management;
Excellence in Marketing & Communications;
Growth Business of the Year;
Start up Business of the Year;
Success through Innovation;
Success through Overseas Trade; and
Young Entrepreneur of the Year.
The deadline for nominations is Friday 7 December and nominees will be announced at the end of January. Winners will be announced at a Gala Dinner, hosted by television presenter Gethin Jones, on Thursday 21 February 2018 at the City Hall in Cardiff