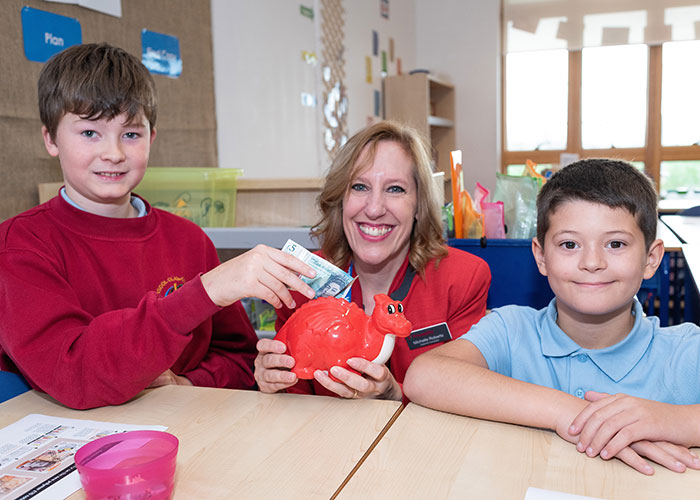 Colleagues from Principality Building Society have gone back to school to provide financial education lessons to more than 1,500 Welsh primary school children across the country.
More than 40 classes of children, including Ysgol Clawdd Offa in Prestatyn, received lessons as part of the Money Advice Service's Talk Money Week (12-18 November), which aims to improve financial education for people of all ages across the UK.
Lessons at schools aimed to encourage children to think and discuss issues such as where money comes from, how to look after money and what money can be used for. The lesson also touched upon forged notes and how to spot them.
To coincide with Talk Money Week, Principality has also commissioned a children's book teaching families in Wales about the importance of financial education from a young age. The book, called Goose's Cake Bake, has been written and illustrated by Devon-based artist Laura Wall. Goose's Cake Bake tells the story of a child who organises a bake sale to raise money to buy books, using themes of entrepreneurship, decision making and financial education throughout. Principality will donate 2,000 copies of the books to schools across Wales.
Debbie Dickin, Principality Building Society's Prestatyn branch manager, said:
"It's more important than ever to be teaching our children and young people about finances, giving them the knowledge and skills to both appreciate money and manage it effectively as they grow up.

"Principality and other businesses across Wales have a role to play in supporting our hard-working schools in helping to prepare children for life ahead through financial education skills.

"Principality colleagues across Wales see helping their local schools as an important way of immersing themselves in their communities. It's what we stand for – helping people prosper at every stage of their lives and across all generations of families."
 As well as the lessons during Talk Money Week, more than 5,000 school children in Wales have benefited this year alone from financial education classes with Principality colleagues and partners.
 Martin Edwards, headteacher at Ysgol Clawdd Offa said:
"We believe the financial education lessons from Principality will have a big impact on our children's outlook towards finances. We want them to go on to be successful in the future in every aspect of their life and the support of Principality Building Society will be so beneficial to ensuring that will happen."