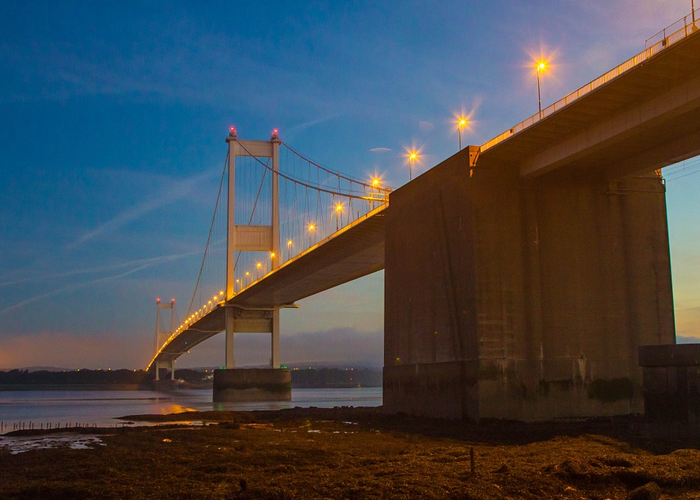 Two years ago, when the UK government finally confirmed the scrapping of the Severn Bridge tolls for good, the joy across Wales was mitigated by the simultaneous news that plans for the electrification of the main railway line between Cardiff and Swansea had been cancelled.
There has been much celebration – and traffic congestion – this weekend, when tolls were banished and businesses across Wales are ready to embrace it.
Robert Lloyds Griffiths, Director of IoD Wales, is among the many long-term advocates of the development and said:
"We in the IoD have consistently expressed the view that transport connectivity and East to West links are crucial to economic performance.

"Increasingly in recent years, the Severn Crossings have been paradoxically compared to a barrage – retaining growth on the English side of the estuary. Its lifting now means that more people and businesses will be coming to Cardiff and its surroundings, stimulating the Welsh economy and strengthening relations between the two city regions.

"We look forward to seeing this improved accessibility to Wales and Welsh businesses benefit not only our economy, but also our society. The Brexit vote has undeniably exacerbated the UK's demographic divide, so it is crucial that we reconnect with each other."
In January, Secretary of State for Wales Alun Cairns hosted the first cross-border, Severn Growth business summit at the Celtic Manor Resort, where he highlighted how no tolls will equate to a £1,400-£1,500 annual pay rise for everyday commuters.
Affordable office space also means that businesses are likely not just to visit Wales, but to invest and expand here too. In 2017, grade A office space (sq. ft/year) was estimated to cost £67 in London and £32.50 in Bristol, compared to just £25 in Cardiff.
Harri Lloyd-Davies, President of the South and Mid Wales Chamber of Commerce, said:
"Over the last decade, South Wales has been experiencing impressive population and economic growth, but for too long, the bridges tolls have hindered this development.

"As reflected by our increasing number of members, businesses located in South and Mid Wales are eager to form a strong community. After the resuscitation of Cardiff airport, the abolition of the Severn tolls means that this community no longer has to be secluded.

"Of course, more businesses settling in Wales will bring about new competition – but what better way to boost innovation and encourage collaboration? There are opportunities for everyone here, and as the oldest independent private sector membership organisation in Wales, we will continue to ensure our members always stay a step ahead."
Tourism, construction and financial, legal and professional services – all of which have been identified by the Welsh Government as "priority sectors", are anticipating some big changes.
By making Wales more accessible, free Severn Crossings are expected to give an extra boost to the hospitality sector which already benefits from our world-renown beaches and mountains and hosts major prestigious sport fixtures and big-name cultural events.
Steph Hobrow, Sales Leader at St Pierre Marriott Hotel & Country Club, said:
"Welsh Government's new tourism campaign and recent investments in Cardiff Airport have helped position Wales as a beautiful destination. Wales outperformed the other UK nations in 2016 in terms of the rise of foreign visitors. 

"But when it comes to running a hotel, you cannot rely on oversea tourism alone. as the competition toughens, it is important that we focus on attracting more tourists from other parts of the UK too.

"Being just 20 minutes away from Bristol, finding us in Chepstow is easier for some Bristolians than getting into the centre of their own city."
The same applies to the housing market, as more people from the South West of England have been snapping up property here in order to get on the property ladder or move to bigger houses.
And at the heart of construction logistics are freight services. While some worry that hundreds more lorries a week will clog up major roads after the tolls are scrapped, others are confident that the rail and relief road improvements will soak up the extra traffic. Freight professionals, wo are already facing serious financial pressure, see the news as welcome respite.
It means they will be able to plough back their savings into current priorities: upskilling their staff and upgrading their fleets. Being able to cross the bridges for free will be a real financial boost for freight businesses, which keep the local supply chain flowing and both sides of the Severn estuary trading effectively.
A spokesman for Welsh machine haulage specialists Trojan-Mek said:
"Like most transport companies, we really welcome the abolition of toll fees on the Severn crossings.  Even though tolls were reduced earlier this year, for our Category 2 and Category 3 vehicles, each crossing still costs over £16.00 – putting our hiab haulage and machinery moving service across the South West at a considerable disadvantage against our English competitors while also dealing with delays at the toll booths.

"We therefore welcome the final abolition of the fees, which gives the Welsh transport industry the ability to compete on a level playing field at last."
Service businesses such as Welsh IT support providers, who regularly cross the bridge to service clients in Bristol and the South West will also thrive thanks to the abolition of tolls.
Brian Stokes, Managing Director of ITCS, named Best Business IT Support Company in the 2018 Welsh Enterprise Awards, said:
"It represents a massive growth opportunity for service businesses like ITCS.  While we already provide IT support and business telecoms for the whole of the UK, including Bristol-based businesses, however the removal of the toll will make our on-site visits these clients more affordable.  We're looking forward to providing our IT services to a wider audience in 2019 and beyond."
Indeed, experts are hoping that taking the fee barrier down will enhance cooperation within the Severn region. The "Great Western Cities" of Cardiff, Newport and Bristol form a Western Powerhouse which has the potential to compete with the Northern Powerhouse of Manchester, Liverpool, Leeds, Sheffield, Hull and Newcastle.
Prof Dylan Jones-Evans, Chair of Entrepreneurship at the University of South Wales, said:
"The end of the tolls provides a unique opportunity for local authorities, businesses and universities to reinforce their collaborative strategy. South East Wales and the northern part of the South West are already home to over 191,000 businesses, an increase of 25% since 2010 – this gives an idea of what we could achieve through closer co-operation.

"In South East Wales, the financial, legal and professional services sector has been identified as that which will create the greatest demand for labour in the next few years. Therefore, it is crucial that we have access to the widest possible talent pool, by reaching out to both Swansea in the west and Bristol to the east.

"The creation of greater co-operation will spread the message that the Cardiff Capital Region, as the gateway to Wales, is a great area for growth and is open for business."