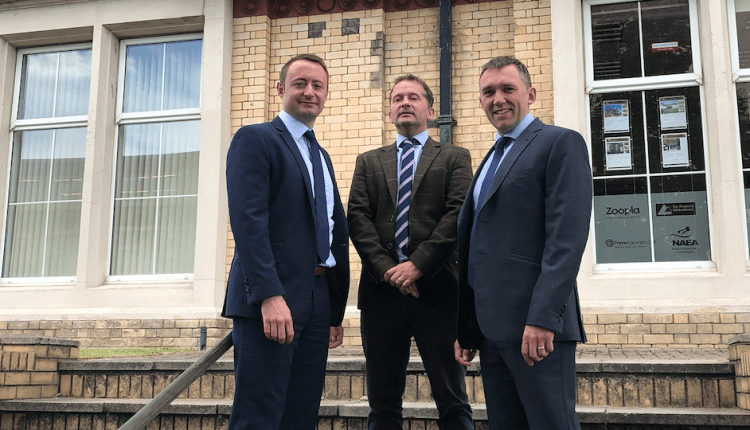 The property market in south and west Wales is changing – and chartered surveyors Rees Richards and Partners are responding by bolstering their expertise in several key areas.
With a history that goes back to 1845, Rees Richards and Partners have a deep knowledge of the property market in south and west Wales. Now they are responding to changes in that market with two new appointments.
Charles Kaminaris and Luke Lawrence will boost the firm's luxury property offering and support its growth in the leisure and coastal property markets within the region.
"We see a big opportunity for growth within these sectors in south and west Wales," says partner Dylan Williams. "With 'staycation' becoming increasingly popular, the west Wales coast is popular amongst those looking for holidays and short breaks within a short distance from the popular towns of Tenby, Saundersfoot and Saint David's. With holiday cottage and caravan park enterprises reporting increased turnover, they have become attractive propositions for investors or owner operators seeking established businesses."
Charles Kaminaris has a strong background in leisure properties, so he is well placed to help the firm tap into these trends. Kaminaris holds a degree in Estate Management and Surveying from the University of Glamorgan and started his career as a trainee estate manager at Whitbread plc in 1999, qualifying as a chartered surveyor in 2001. After entering private practice in 2006 he has worked at commercial property agency GVA since 2011, becoming a director in the Retail Hotels and Leisure team in 2016. He is also a registered valuer.
Within the leisure sector, Kaminaris has repeatedly represented a broad range of clients, including financial institutions, investors, occupiers, local authorities and individual operators across the UK. He has undertaken valuation, lease consultancy and agency work for both large corporates and private individuals.
"Charles is highly regarded as a rent review surveyor dealing with specialist profits method rental valuations and regularly acts as an expert witness at arbitration," says Williams.
Luke Lawrence has worked in the Pembrokeshire property market since 1994, and now heads Rees Richards' residential sales division throughout west Wales. The post will help the firm tap into the increasing demand for residential properties in the area – an appetite that reflects a growing trend for home working that is making it possible for professional people to live in beautiful rural and coastal locations.
Since graduating from UWIC, Lawrence has successfully negotiated a large number of property sales on behalf of private clients. An active property developer and investor, he has extensive knowledge and experience in the real estate sector across west Wales.
"By recruiting people with the calibre and experience of Luke and Charles, we are strongly placed to make the most of the opportunities we see in our region," says Williams. "Luke and Charles are very well connected within the industry and have a proven track record of delivering high quality service to a range of different clients.
"Their arrival builds upon our existing presence within the region and offers us the ability to provide an all-encompassing property consultancy. We are really pleased and excited to have two such excellent and experienced new members of our team."
Rees Richards and Partners is unusual in the sheer breadth of services it offers within the property sector. One of its cornerstones is estate management: Rees Richards and Partners are retained agents for the Penllergaer, Sketty Park and Stradey estates. The firm has been managing the Penllergaer estate since 1845, took on the Sketty Park estate in 2013 and has been involved in the management of the Stradey estate for around a decade.
Managing the vast Penllergaer estate involves looking after over 4000 ground rent estates, 130 agricultural holdings, 15,000 acres of land, 10 commercial properties and 90 residential properties on a daily basis. The firm has a dedicated property management team to deliver these services.
"The Penllergaer Estate is at the heart of our business," says Williams. "Rees Richards and Partners was founded on the management of that estate and it remains our main client, with land across south, west and mid Wales. We take an active approach to estate management: we have modern systems that enable us to react promptly to any issues that arise. We take a long-term view across the estate regarding its direction and we apply that knowledge and experience to other estates."
The property consultancy side of the business advises on leases, landlord and tenant agreements, wayleave and easements and rural and commercial lettings. It also advises on residential and commercial development, as well as handling sales of a broad range of properties. These include executive and country homes; commercial property such as retail and industrial premises; leisure properties such as pubs, hotels and caravan parks; and rural property including farms, land and smallholdings.
Williams has seen demand for retail premises shift in recent years as shopping habits change.
"While the south and west Wales residential property markets continue to grow, the same cannot be said for the region's retail market, with many vacant properties appearing in Swansea and Llanelli," he says. "Shopping trends are changing, with many turning to local villages and towns such as Carmarthen, Mumbles, Cowbridge and Llandeilo for consumables and the internet becoming increasingly popular for retail sales amongst a broader demographic.
"The result is that the high streets in smaller towns in the region are bucking the trend that has seen many larger, city centre shopping centres suffer: we have seen an increase in demand for lease consultancy for smaller local businesses as opposed to the larger national retailers."
Besides estate management and property sales and lettings, Rees Richards and Partners provide valuation services for buyers and for providers of secured lending including Barclays, Lloyds, Handelsbanken, Swansea Building Society and Liverpool Victoria. They also provide valuation advice in respect of inheritance, probate and capital gains tax matters, as well as providing dispute resolution services, arbitration and consultancy on utilities such as water, gas, electric and telecommunications.
"What sets us apart is not only the breadth of our services but also our many years of experience and knowledge on country, coastal and rural property matters," says Williams. "In 2020 we will be celebrating our 175th year in business; we are one of Wales oldest professional firms, but we continue to evolve and offer a modern-day property consultancy while also maintaining our traditional values."