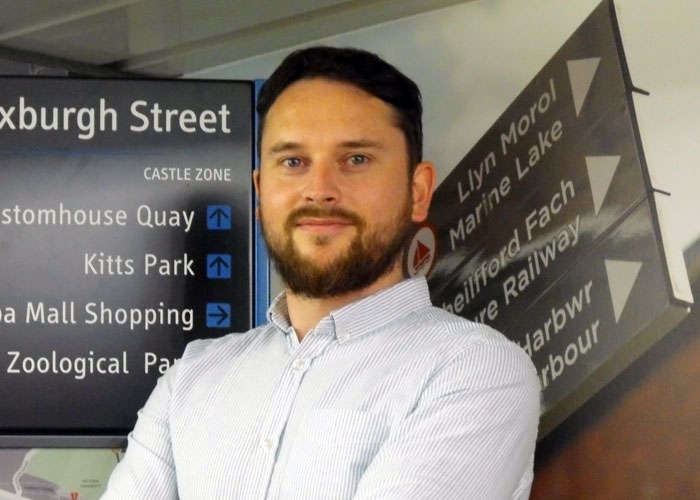 A leading North Wales sign manufacturer is encouraging other companies to sign-up for a popular management programme that had a positive impact on staff development and growth.
Chris Whitehouse, Project Director at the award-winning isGroup, was among those to complete the 20Twenty Business Programme and says the focus on strategy and finance was particularly helpful in his day-to-day operations.
The Flint-based company employs 30 people and has worked alongside some of the UK's top organisations in creating unique signage solutions, from the public sector and universities to football clubs, including Liverpool FC, and the Hard Rock Café chain.
20Twenty is built on modules designed to support personal development, sales, leadership, strategy and more, with BBC Business Doctor Paul Thomas, Penderyn Distillery boss Stephen Davies and Cardiff Metropolitan University Professor Brian Morgan among past speakers.
Reflecting on the areas that proved invaluable in helping him grow professionally, Chris, who completed Levels 5-7, said:
"I found the finance module very beneficial, allowing me to forecast and plan for the future and act upon changes when needed.

"I would recommend anyone to take this course to further develop their knowledge of the sector."
Colleague and Account Manager Jac Lloyd-Jones also completed Level 4 of the Wrexham-based course.
He added:
"It's been really interesting and built on the marketing and sales experience I already have after 12 years with the company.

"I've learnt a lot of new skills and am gaining in confidence, which has transferred over to my work life."
20Twenty Project Manager Gwenllian Owen welcomed the feedback and said modules are designed in partnership with industry and participating businesses to find out what is relevant to them and where they want to improve to achieve the best results.
"To receive such a positive response from the team at isGroup is extremely heartening and key to the way we deliver these programmes," said Gwenllian.  "I'm delighted they have already seen the benefits and congratulate them on their continued success."
Professor Morgan and Mr Davies will be among the headliners at the 20Twenty and ION Leadership North Wales Means Business conference at Venue Cymru in Llandudno on November 29.
Benjamin Owen, managing director of Mochdre gym and health firm Fast Way to Fitness, KW Inner Strength's Karen Warren and Liam and Ellis Barrie, owners of the Marram Grass restaurant on Anglesey, will also be in attendance.
Gwenllian added:
"We look forward to seeing isGroup and many more of the companies we collaborate with at the upcoming conference.  It's going to be a brilliant event, featuring some of the top names in business in Wales."
Targeting firms in Flintshire, Powys and Wrexham, part of 20Twenty's success comes down to the support companies receive in funding; Up to 70% of the cost comes via the European Social Fund through Welsh Government. The next course takes place from December 7 in Wrexham.
For more information and to book your place at the conference, visit https://goo.gl/ge74QX
20Twenty Finance Masterclasses will soon by hosted by the Development Bank of Wales in Wrexham. Delivered by Jeff Davies, the Managing Finance Masterclasses focus on efficiency and effectiveness, whilst using financial information to plan for a better business.
For more information or to sign up for 20Twenty or ION, visit the websites: www.20twentybusinessgrowth.com and www.ionleadership.co.uk