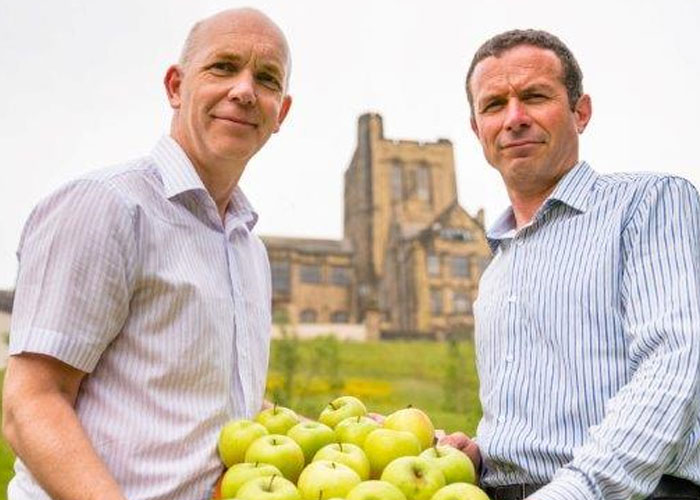 Next week, ten leading Welsh food innovation companies will be present at Food Matters Live, an annual event dedicated to food, health and nutrition at ExCeL in London.  On offer will be a wide range of food innovation from insect based foods, dairy free alternative ice creams, through to natural alternatives to petrochemical-derived packaging (such as plastics, detergents, fertilizer and pesticides),
Bug Farm Foods produce delicious, innovative and unique foods made with the sustainable protein of the future – insects!  Entomologist Dr Sarah Beynon and award-winning chef Andy Holcroft (featured on BBC's 'The Bug Grub Couple') are the founders of the business.
Based on the couple's farm, research centre and visitor attraction, The Bug Farm, the recipes have been developed, tried and tested by Andy in his restaurant Grub Kitchen – the UK's first full-time edible insect restaurant.
Also present will be multi-award winning producer of luxury dairy ice creams, Mario's.  Meeting the growing demand for 'free-from' dairy products, Mario's have developed their own range of luxurious 'dairy free' ice creams, available in three flavours and suitable for vegans.
Heather Dallavalle at Mario's Luxury Welsh Ice Cream, said:
"We decided to go down the free-from route as we noticed a huge rise with the amount of people that have turned vegan, or have some sort of intolerances, and we felt that there was a gap in the market for delicious ice cream that was free-from dairy.

"Our dairy free ice cream is made using coconut milk instead of milk and cream and we have continued to maintain our high standards with our dairy free range by sourcing the best quality ingredients."
The UK market for sustainably produced food and drinks is currently estimated to be worth £8.64billion and is growing 5% year on year. To remain competitive, it's imperative that Welsh food and drink businesses take the lead in being as environmentally sustainable as possible, with retail, wholesale and the public sectors all actively seeking suppliers that help them meet their corporate social responsibility and legislative objectives.
On the stand will be Pennotec, a small Welsh food technology and biotechnology company that is at the forefront in developing and supporting the Circular Economy for food manufacturing. The company was created in recognition of the growing demand for natural alternatives to petrochemical-derived products (such as feed ingredients, food preservatives, water clarifiers and soil health supplements), and the opportunity to make better use of the rich diversity of food processing wastes in the UK.
Pennotec is currently leading an R&D collaboration developing functional fibre ingredients from apple pomace, a by-product of apple juice and cider production, which can reduce levels of sugar and saturated fat in a range of popular food items. In the long-term these functional fibres could be used to replace certain high-calorie ingredients such as fat while enhancing the fibre.
Dr Jonathan Hughes, Managing Director at Pennotec is hoping his attendance at Food Matters Live will provide the perfect opportunity for discussions with producers and manufacturers who are keen to extract more value and minimise the volume of waste generated by their operations.
"Our technical experts work with food manufacturers to identify potentially high value functional food ingredients in food processing waste streams and lead collaborative research investigations into the natural extraction and purification of these functional ingredients for sale into food, feed and non-food markets.

Using a proprietary, biotechnology platform, our scientists can extract functional food ingredients for enhancing the shelf-life of fresh produce and making food and drinks healthier from food produce that would otherwise be discarded – with minimum impact on the environment."
The ten Welsh companies, supported by the Welsh Government, attending Food Matters Live include The Coconut Kitchen, Pennotec, DrNashGlycoHealth, Welsh Hills Bakery, Welsh Gluten Free Bakery Products, The Bug Farm Foods Ltd, The Bake Shed, Prima Foods, Mario's Luxury Welsh Ice Cream and Samosaco.
Commenting ahead of the event, Lesley Griffiths, Cabinet Secretary for Energy, Planning and Rural Affairs, said
"Innovation and continued product development is key in moving companies forward in today's ever changing environment. It is about giving out producers the support and platform for targeting new markets, launching new products and embracing new technology and advancements in research and development.

"The Welsh Government is committed to supporting businesses in any way we can, including our Business Clusters programme, which engages more than 400 businesses in a variety of initiatives to grow sales, develop new markets and improve productivity.

"We understand the challenges food and drink businesses will face in a post-Brexit world and hope to give them the tools to thrive in whatever market they are in."
Food Matters Live brings together a cross-sector of food and drink specialists with the newest, most exciting food and drink innovations in one inspiring three day event. More than 16,000 influential professionals are expected to attend this year's exhibition, featuring over 800 leading organisations – which together highlight the important role every part of the food, drink and nutrition sectors play in developing healthy and 'better for you' products.
Come and visit the Food & Drink Wales Pavilion stands 410 & 420 at Food Matters Live from 20-22 November 2018 for a range of new and innovative products.