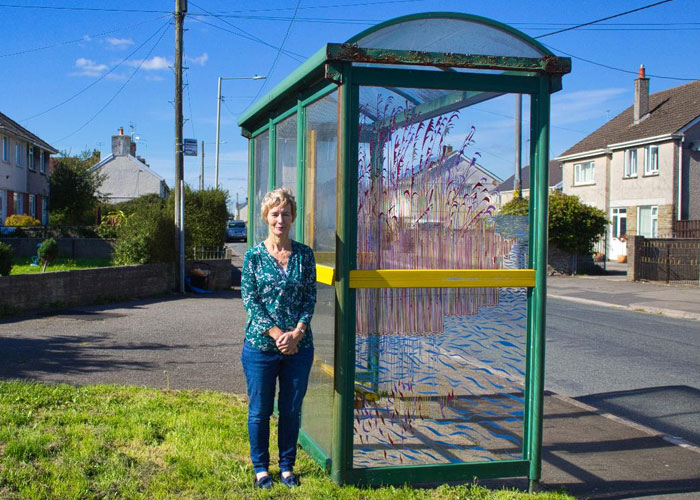 Retired art teacher, Helen Kavanagh, noticed some graffiti on her local bus shelter and wondered if she could come up with a creative solution to tackle the problem.
Helen approached Cornelly Community Council to ask if she could replace the most prominent panel with artwork featuring the nearby Kenfig Pool – councillors were delighted and jumped at the chance to have such a unique feature in their village.
Helen explains:
'I walk past the the shelter every day and thought I could do something to make people proud of the area we in which we live. Cornelly has lots of community spirit and some stunning beauty spots.  When I put my idea to the Community Council they were really enthusiastic!'
Chairman of Cornelly Community Council, Councillor Dorian Morgan added:
'The Community Council were delighted when Mrs Kavanagh approached them with her proposal and they were happy to support such a worthwhile project.  The artwork on the panel is fantastic and the Council could not be more pleased with the work Mrs Kavanagh has done for everyone to enjoy.'
After Helen completed the artwork the panels were coated with a special coating which will prolong the life of the panels by helping to protect against marks, dirt, and the weather.  Feedback from residents has so far been really positive.
Local resident, Mark Baker said:
"To be honest, I wasn't expecting the bus shelter to look that much different, but it is really bright and captures the essence of Kenfig Pool perfectly.  It really lifts the street!"
Helen now hopes to use her teaching experience to work with local primary school children on designing other panels to complete the shelter.  Helen says:
'Getting young people to care about the area in which they live through a local and creative project could be a first step in developing a justified pride in their environment.'