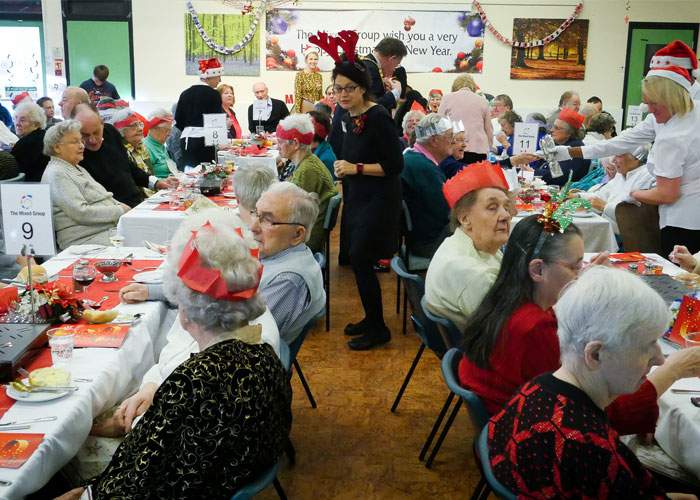 Despite Christmas Day being only six weeks away, more than three quarters of Cardiff residents still don't know how they plan on spending the day, as a new survey reveals that over a third of us feel anxious and worry about making plans for the festive period.
Contact the Elderly, the only national charity to tackle isolation and loneliness through face to face contact, commissioned the research to highlight the impact of societal pressures on families over Christmas and the impact it can have on older people left to spend Christmas alone.
According to the charity, 22% of Cardiff residents worry about upsetting family members when making Christmas plans despite the fact that almost 53% make the same festive plans every year.
The research also found that only 20% of people in Cardiff have totally confirmed their Christmas plans for this year's festivities. For two thirds of Cardiff residents, those plans normally involve staying at home and over a third of all respondents say that Christmas regularly involves visiting older relatives. Almost 4% of those surveyed admit to spending Christmas holidaying within the UK yet only 1.3% of Cardiff respondents spend the day volunteering or helping out in the local community.
The charity released the festive research to coincide with the news that they've joined forces with Community Christmas, an organisation which aims to ensure no older person spends Christmas Day alone if they don't want to.
The Community Christmas website lists events taking place across Cardiff that are open to older, vulnerable people in the community who would otherwise be spending Christmas Day alone.
No two events are the same and they vary from community Christmas lunches to formal sit-down dinners in community centres like Maes-y-Coed Community Centre and St. Fagans Community Hall in Aberdare. South Wales residents can also attend events at the Ponty Elim Church in Pontypridd and Bethel Baptist Church Hall in Llantwit Major. Any event which creates the all-important connections that hold communities together can be a Community Christmas event.
Community Christmas is becoming part of Contact the Elderly at a time when event listings on the site are expected to hit an all-time high. When the site was established in 2011 by community transport volunteer Caroline Billington there were just four events listed. The following year this number grew to 74, and in 2017 Community Christmas passed the 500-mark following support from, amongst others, the Big Lottery Fund, Waitrose, and the Jo Cox Foundation.
Commenting on the merger, Meryl Davies, Chief Executive of Contact the Elderly, said:
"Everyone recognises that Christmas can be a difficult time of year, particularly for people who are isolated or vulnerable. Caroline made it her mission to ensure that anyone who doesn't want to spend Christmas Day alone doesn't have to. As an organisation, it is the perfect fit for Contact the Elderly which has been fighting isolation and loneliness among older people for over 50 years through volunteer-led social gatherings.

"We want to ensure Community Christmas continues to grow and to encourage people across the UK to think about any older people in their local communities who might not have plans for Christmas Day. This is a chance to tell older people about Community Christmas, or look at the website for them to find their nearest event. We'd love this to spark conversations between people who might not otherwise speak to each other, whether it's someone you meet in the street or your next-door neighbour."
Contact the Elderly is renowned for its tea parties which have now helped over 100,000 people since the charity launched in 1965. The older people's charity is currently supported by nearly 12,000 volunteers including tea party hosts and volunteer drivers to take guests to and from the parties.
Sian Llewellyn, Head of Service for Wales, commented:
"In the run up to Christmas, we receive a lot of calls from the public asking if an older person can join them for Christmas lunch, or if they can help older people on Christmas Day.  Due to the various volunteer safety checks needed we simply can't make that happen so we are particularly pleased to be joining forces with Community Christmas so that we can help people to set up their own community events. Through Community Christmas, we can help people to develop their own local Christmas Day community get together and offer a website to promote it.  That way, people are making Christmas Day special from within the heart of their own community and we hope that everyone involved will want to stay part of Contact the Elderly all year round."
Caroline Billington, founder of Community Christmas, said:
"I volunteered on Christmas Day almost ten years ago and it changed my life. I knew then that I wanted to focus my time and energy on creating something that would benefit older people for years to come.

"Now, Community Christmas is its own entity, it's growing organically with more and more events and activities being added to the site every day. I think its really important to emphasise that anyone can host an event, it doesn't have to involve cooking a Christmas feast for 20 people. It could just mean arranging tea and Christmas cake at a local village hall, or singing Christmas carols in the pub. It's anything that gets people together in the community who otherwise might be alone on Christmas Day.

"I can't wait to see how it will change and evolve under the leadership of Contact the Elderly and create more community connections."