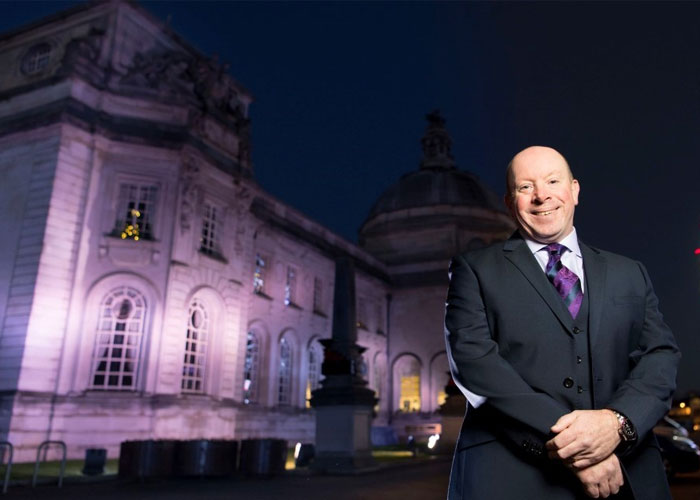 A Cardiff businessman whose life turned upside down after a bout of food poisoning left him disabled has found time to shine again by bringing workplace disability confidence into the UK spotlight.
Julian John had to learn to stand, walk and talk again after a gastric reaction to a steak he ate in a restaurant saw him suffer a blackout and left him house bound for three years.
The former HR consultant was working for some of the largest retail companies in Europe when he was diagnosed with an acquired brain injury, thought to stem from a bacterial infection, and his life changed forever.
Now Julian's life involves helping the business world celebrate diversity and inclusion in the workplace through Delsion, a people and development consultancy he launched following a 10-year struggle to find work in light of his own disability.
Julian said:
"When I was a HR consultant, I thought I was a being as inclusive as possible in who we took on, but also saw and understood the barriers that companies perceive when it comes to employing those with disabilities. But it's not until you live it yourself that you realise there is so much more than can be done. 

"Going through what I have and knowing what I do now, I have made it my mission to get companies to see ability rather than disability in people. To that end, I've set myself and Delsion the social goal of making Wales a leading nation for inclusion, specifically around disability and employment."
Julian explained:
"The benefits of employing those with disability are great. I'm really passionate about dispelling myths around disability and helping businesses to look at the commercial and pastoral benefits embracing diversity within the workplace brings to any organisation.

"As a society and as an economy, we should be way past viewing diversity as a 'tick box' exercise and well on the way to appreciating the potential each and every individual has in effecting professional productivity on the ground – sadly, this is still not the case."
In light of his work, Julian was recently named IoD Wales Director of the Year for 2018 and is also included on the Shaw Trust Power List 100 of the most influential disabled people in the UK.
He is also an ambassador for Purple Light Up, an international campaign which will see key landmarks nationwide illuminated in purple to recognise the economic contribution of disabled employees UK wide.
In Wales, buildings set to go purple as part of the global initiative on Monday December 3rd include Cardiff Castle, Wales Millennium Centre, Cardiff City Hall, The Senedd, The University of South Wales and many more. Businesses such as Gocompare.com have also vowed to go purple.
Julian said:
"Unfortunately there is still some way to go in bringing diversity and inclusion issues to the fore among British businesses – and in Wales, the challenge is somewhat more prevalent than it is in the rest of the UK."

"In Wales there is a higher percentage of disabled people than in the rest of the UK, but the scale of the disability unemployment challenge in Wales is more acute too."
Just 47.3% of the disabled population in Wales are in work compared to 53% in the rest of the UK, while only 43% of working-age people with a disability or long-term health condition in Wales are employed compared   to   79%   of   non-disabled   people   without a health   condition*.
This is a health and disability employment gap in Wales of 36% – while the equivalent UK gap is 32%.
Julian said:
"I'm in a great place now and find the work I do in helping businesses achieve a diverse and inclusive workforce hugely satisfying,"

"Initiatives like Purple Light Up are so incredibly in recognising the contribution that disabled people make both in work and to the economy."

"We need to make it clear to employers that they are missing out on a huge talent pool of potential." 
In 2017, major corporations and government buildings in countries across the world lit up purple or undertook activities to celebrate the economic power of disabled people across the globe.
On 3rd December 2018 disability networks, resource groups, allies, champions and supporters in Wales and worldwide will once again unite to celebrate the economic power of disabled people through the #PurpleLightUp campaign.
For more information visit https://www.purplespace.org/purple-light-up