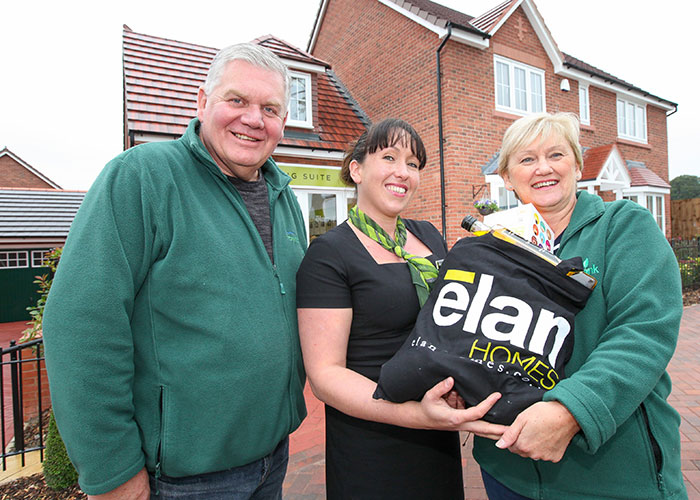 Welsh property developer Elan Homes has delivered much needed support to Flintshire Foodbank to help keep its van on the road.
Elan has two Flintshire developments  Argoed Gardens, Argoed and Kinnerton Meadows, Higher Kinnerton and as a good neighbour, the homebuilder has stepped in to offer support with a donation of £500.
Project manager Sue Leake said:
"Flintshire Foodbank began in Mold in May 2012 and now has seven centres across Flintshire. Since we started 36,647 people have received help, and 335,018kg of food has been donated to the foodbank by local people, to help local people. The donation from Elan Homes will be used for maintenance on our Foodbank van.  We couldn't operate without the use of our van, which collects food donated and re-stocks our centres on a weekly basis with food from our warehouse."
On average 500 people per month receive emergency food help from the foodbank.
Marie Morris, sales director for Elan Homes in the North, explained why they chose to support this charity:
"Being able to feed our families is something many of us take for granted, but Flintshire Foodbank does a fantastic job in supporting those who would otherwise go hungry. We were happy to be able to support the charity with a donation that will help keep the foodbank's van on the road, delivering food to help those in need."
Along with building new homes, Elan is investing in community infrastructure across Flintshire. For example, around £450,000 has been allocated to local education with funding to be shared between Castell Alun High School, Higher Kinnerton CP School, Ysgol Mynydd Isa and Argoed High School. The homebuilder has also agreed to fund improvements to play facilities on Park Avenue and Clwyd Crescent.
Flintshire Foodbank's warehouse in Mold accepts donations on Tuesdays and Fridays until 2pm. The charity also has collection points across the county, the nearest to Elan's Argoed Gardens and Kinnerton Meadows developments are at Tesco in Mold and Broughton Park.
Find out more via https://flintshire.foodbank.org.uk.
Learn more about Elan's homes via www.elan-homes.co.uk.