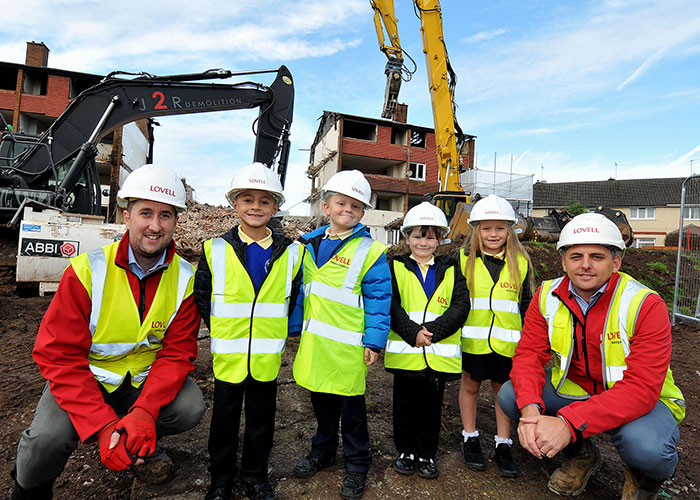 Pupils have been given a guided tour of a major homes regeneration development under way by Newport City Homes and taking shape on the doorstep of their school in Ringland, Newport.
Partnership homes developer Lovell, which is carrying out the work, invited five- to seven-year-olds from Milton Primary School to visit as diggers got demolition under way on flats at Hendre Farm Drive at the Cot Farm Estate. The demolition will prepare the way for the start of a large-scale regeneration programme.
Later this year, the Lovell team will begin construction of 56 new homes and apartments for social rent through the housing association. The £7.5 million scheme is the first phase of a wide-ranging regeneration project for the Ringland area, developed by Newport City Homes in close consultation with local residents.
The Milton Primary pupils, who are working on their own project about the redevelopment, are set to make a number of visits to the site which is opposite their school, during the redevelopment programme. Headteacher Corinne Burke says: '"Thank you for providing such a rich and relevant learning experience for our children. They thoroughly enjoyed visiting the site and learning about the regeneration of our local area."
"The local community have played a major role in creating the plans to bring new life to Ringland," comments Lovell community coordinator Bernadette Vickery.

"It's just as important to us that we involve local organisations as much as possible during the construction programme. We loved showing the children round, with the visitors listening to talks from our build manager Paul Phillips and senior site manager Adam Portman. The pupils were fascinated by the construction machinery and asked a lot of interesting questions. We look forward to welcoming them back to see progress at different stages."
In order to create benefits for the wider area, alongside the new homes, Lovell will provide apprentice placements on the Cot Farm project as well as jobs and opportunities for work experience and placements for unemployed residents and other local residents.
Rachel George, head of development and regeneration for Newport City Homes, says:
"Newport City Homes are delighted to be working with Lovell on this exciting regeneration project to deliver new homes and opportunities for the local community."
As well as creating new affordable homes locally, the overall estate regeneration programme includes the relocation of Ringland's existing shopping centre, to make it more modern.