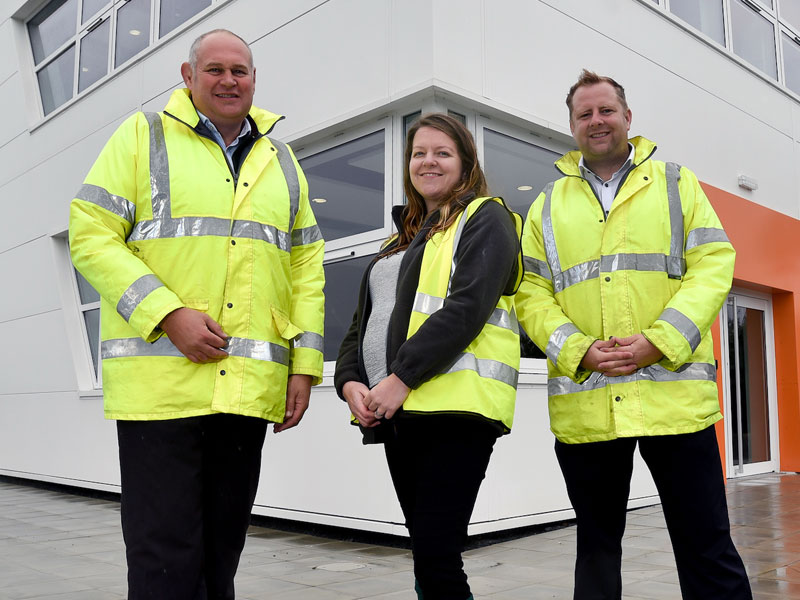 A buoyant Welsh construction sector is helping to underpin the on-going growth of a building company after it completed contracts worth more than £8.7m in the country in the last financial year.
Pave Aways, which has its Welsh base in Wrexham, is on course to beat that figure in the current financial year after already securing contracts in Wales worth more than £8.4m by May.
During 2017 to 2018, Pave Aways completed refurbishments for clients including Wrexham, Gwynedd and Powys Councils, Betsi Cadwaladr Health Board, Mid and West Wales Fire and Rescue and the Mid Wales Housing Association. It also handed over a £2.1m new build despatch building for Airbus at its Flintshire headquarters and a 370 sq m extension for manufacturer Zip-Clip at Offa's Dyke Business Park in Welshpool.
Among the contracts commissioned so far this year there is further work for Betsi Cadwaladr Health Board, Mid and West Wales Fire and Rescue and Wrexham Council, refurbishment works for packaging firm Wipak in Welshpool, and a £4.6m factory for Invertek Drives in Welshpool for the Welsh Assembly, which is due to be completed this summer.
Managing Director Steven Owen said the growing number of contracts it was winning in Wales demonstrated the confidence in the country as whole.
"The fact that we are nearly outstripping our 2017-18 achievements within the first quarter of the 2018-19 supports this. "Our 40 years experience across a range of sectors makes us the informed choice for many organisations when it comes to major infrastructure projects as our team – from on site to back office staff – understand the issues and constraints of working on public sector and manufacturing projects.
"The on-going demand for our services in Wales is supporting our strategy for steady and sustainable growth as we look towards a target £35m turnover in 2025. "The 2018 financial year is already off to a flying start and we're looking forward to working on more projects in Wales as the year progresses." Steven attributed Pave Aways' on-going achievements to the long-term relationships it builds.
"We pride ourselves on creating long-term relationships with our clients by offering a local solution, combined with the highest standard of construction and exemplary after service."
Matthew Clay-Michael, Managing Director of Zip-Clip, said:
"Having worked with Pave Aways on our original build in 2016 we were confident that it could meet our brief on time and, importantly, on budget.
"The firm's vast experience within the manufacturing sector at all levels of the business means it can work seamlessly as part of our team to deliver a bespoke solution to meet our needs."