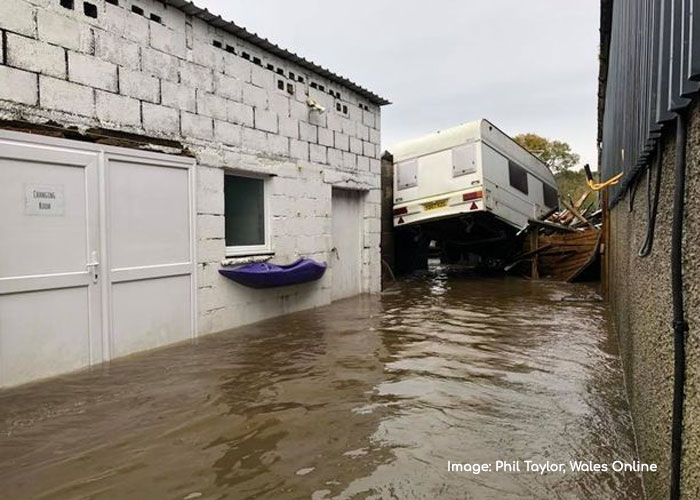 The third named storm of the season brought parts of Wales to a standstill over the weekend, causing a landslide which killed a young man in Cwmduad near Carmarthen and caused devastating floods, leaving businesses and homeowners counting the cost.
Mike Lewis today reported that the young man killed, Corey Thomas Sharpling, 21, was a passenger on a bus heading for Carmarthen where he was due to work a shift at McDonalds.  The route was blocked by a fallen tree and Mr Sharpling got off the bus as council workmen tried to clear the obstruction.  Onlookers report that Mr. Sharpling was outside and became suddenly engulfed by a wave of falling rocks and trees.
His devastated family have called for privacy as they paid tribute to him:
"We are heartbroken at the tragic loss of our beautiful son Corey.  Many knew his wit, charm and sense of loyalty and we take those things with us in our hearts.

"We would like to thank the community for their support at this time and also friends and colleagues at University of Wales Trinity, Saint David, Carmarthen.

"As a family we would appreciate time to grieve and ask to be given privacy in which to do so."
The tragedy happened as the region dealt with the worst flooding in 30 years, seeing Carmarthen's new flood defences breached for the first time.
As well as the tragic loss of Mr. Sharpling, 100 sheep were washed away by the floods in nearby Pont-ar-Gothi, where the local pub was forced to close after floods engulfed much of the ground floor and gardens.
A further man lost his life after falling into the water at Penarth Marina.
Many areas across Wales were hit hard as the region dealt with a month's worth of rain overnight.  In Aberdulais, Port Talbot, swollen rivers reached the level of the aqueduct and left the entrance to Aberdulais Falls surrounded by water, while a train got stuck in high water in Penrhiwceiber, near Mountain Ash , leaving 30+ passengers stranded, later rescued by local fire crews.
Councillor Alun Lenny, former mayor of Carmarthen, compared it with previous flooding in 1987, where the town was badly flooded and four people were killed when just a few miles away, Glanrhyd Bridge, near Llandeilo, collapsed. The train plunged into the water waiting below, resulting in the death of three passengers and the train's driver.
Waters are now receding, but businesses and households are now counting the cost, and hoping that the aftermath of Hurricane Michael, due to hit the region later this week, spares them further damage.
Llandysul and the Llandysul Paddlers Canoe Club are just one example of a community club that lost almost everything in the storm.  The markers for their slalom course, so carefully laid out along the river, have disappeared completely.  Their centre building was left partially destroyed, and their tool shed, it's contents,  five trailers, 15 canoes and 15 kayaks are all gone.
Community Volunteers helped with the clean up and a GoFundMe campaign has already raised over £9000 for the club.
Carmarthenshire County Council said that a huge clean-up operation was underway and that their operational team has now switched its efforts from emergency response to recovery and supporting affected communities and businesses.
Additional resources have been put in place to collect ruined carpets, furniture and other waste, with cages and skips being dispatched to worst hit areas, however the council has advised householders to check with their insurers before disposing of any items.
Dehumidifers have been provided to as many homes as possible, and the council have established a hardship fund for residents most in need of financial support.  The council said that it's housing officers will be visiting homes and helping people to complete and submit insurance claims, while business support officers would be making contact with retailers and businesses, with rate relief is also being sought from Welsh Government.
The council said they will also be drafting in specialist teams to support council crews, including divers to inspect underwater structures and areas that have experienced land slide, although a number of diversions will remain in place.
Carmarthenshire County Council Chief Executive Mark James said:
"Our staff have been working hard to respond in extremely difficult conditions. Now that the flood waters have subsided we have shifted our focus from response to recovery and we are doing all we can to support everyone affected.

"A full assessment of the damage is underway, and, as well as working with partner agencies, we are also speaking with Welsh Government to ensure appropriate resources are in place."
While most flood warnings have now been lifted by Natural Resources Wales, and floods are expected to now subside, many are concerned that with storm season only just beginning, that this could be a trend of things to come for Wales.  With the aftermath of Hurricane Michael threatening to hit UK shores as early as next weekend, much of Wales is hoping that future storms don't hit so hard.