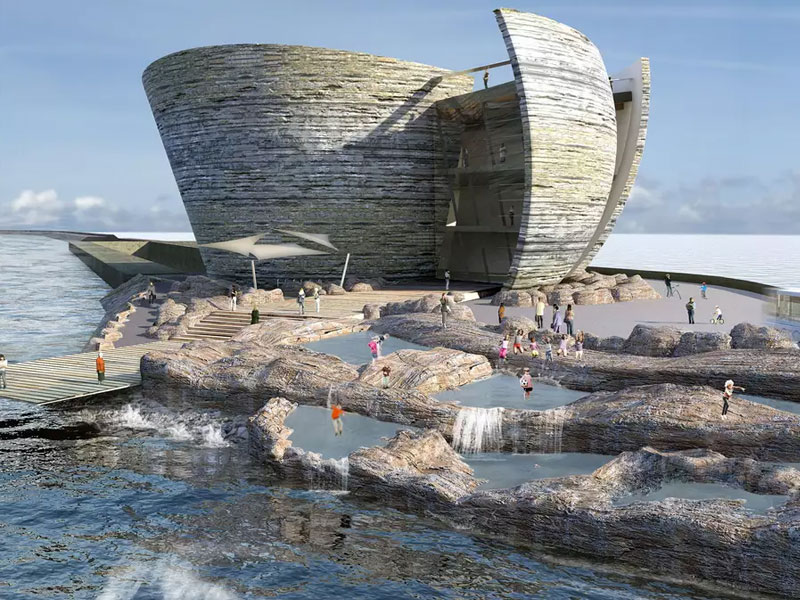 Almost 18 months after a Government Report described the Lagoon project as a 'no regrets' policy, senior Welsh figures are united in their criticism of yesterday's announcement from Westminster that the Swansea Lagoon Bid had been unsuccessful.
Some are now calling for a vote of no confidence in the Welsh Minister, Alun Cairns, after leaked documents emerged showing he was not so supportive as he had claimed to be, including saying in a leaked email that 'the numbers don't add up'.
Swansea Council leader Rob Stewart described the decision as a 'huge mistake' and a 'kick in the teeth' for Wales, saying:
"The tidal lagoon is a once in a generation opportunity to create a new industry and provide renewable, tidal energy for the UK. 

"It's a game-changing project that would create 1,000 jobs during construction and almost 200 full-time jobs.  As a pathfinder project Swansea would pave the way for an entirely new industry where Wales and the UK would be a world leader.

"The UK Government has spent 18 months on this decision and after all that time they have made the wrong call.

"They are removing nearly £2bn of investment from Swansea and South Wales. We're being left with sub-standard transport because the UK Government removed electrification investment of £700m. Now they are cancelling the lagoon, removing £1.3bn with the loss of thousands of new jobs and opportunities with it."
Liz Saville Roberts MP, Plaid Cymru's energy spokeswoman at Westminster, said:
"Every single party represented in the National Assembly has backed the Swansea Bay Tidal Lagoon and yet, Westminster has told us we can't do it."
Welsh First Minister, Carwyn Jones, furiously tweeted:
"The UK Government's decision to pull the plug on Swansea Bay @TidalLagoon is short-sighted & demonstrates their complete lack of ambition. Another crushing blow to Wales. @AlunCairns has questions to answer."
The announcement is particularly painful for Wales, given that it was announced on the same day that MPs voted to support a controversial third runway for Heathrow, a project that environmental campaigners have long opposed.
Carmarthen East and Dinefwr MP Jonathan Edwards said:
"On the same day that Westminster rejected the proposal for a tidal lagoon in Swansea Bay, they expect us to vote through an astronomical investment for the south east of England, to which Welsh taxpayers will be expected to contribute.

"Transport for London estimates that linking the new runway to London could cost up to £20bn. If Wales were to receive its fair share of that spending, we would receive £1 billion which we could spend on our own transport infrastructure, which is in desperate need of upgrading, but Ministers have refused to commit to giving Wales its fair share."
Ian Price, CBI Wales Director, acknowledged that projects had to be financially viable but called for lessons to be learned for future innovative projects:
"All major infrastructure projects require large amounts of time, energy and money, only for many to then fail to get the green light. There must be a smarter way of approaching such projects that does not discourage innovative entrepreneurial new firms from entering the marketplace.

"The newly established National Infrastructure Commission for Wales should lead a cross-agency review into all stages of this project and identify ways both governments can speed up the process for future energy infrastructure projects and remove barriers to entry for other firms."
Cllr Stewart pledged to keep working to find alternative ways of delivering the lagoon.  He said:
"While the UK Government has kept us waiting, we have been working with Welsh Government Ministers in Cardiff and our partners to see how the lagoon can be delivered.  We won't turn our backs on the lagoon. There has been overwhelming support for it from the Welsh public, business leaders and politicians on all sides.

"We are determined to try to make this work for Swansea, Wales and the UK and deliver the massive benefits promised by a new generation of tidal lagoons starting in Swansea."