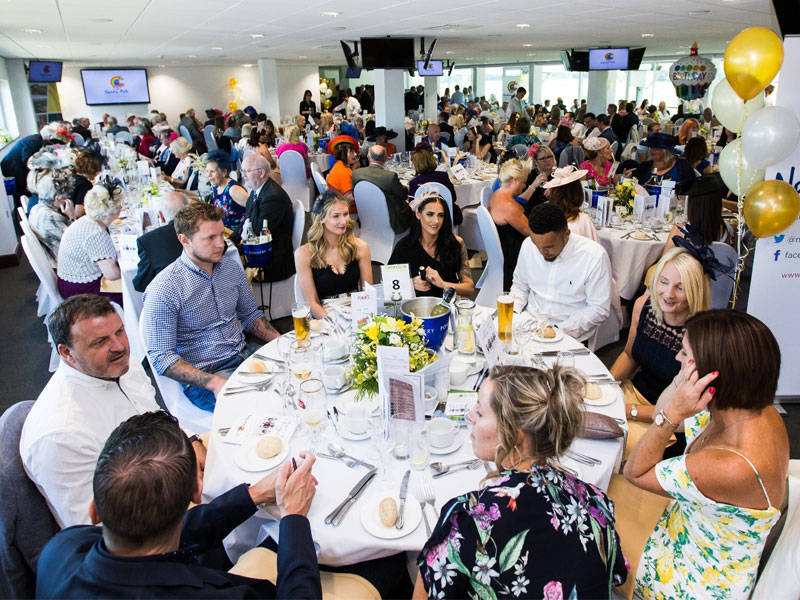 The 12th Royal Ascot Charity Day, held at Chepstow Racecourse, raised nearly £68,000 for Noah's Ark Children's Hospital Charity last month. Sponsored by Chepstow Plant International, this fantastic event has raised over £300,000 in the last five years to help transform the Noah's Ark Children's Hospital in Cardiff.
Over the past five years, Chepstow Plant International's Royal Ascot Charity Day has raised over £300,000.
Over 350 guests at this year's event enjoyed a three-course lunch, afternoon tea, and live TV coverage from Royal Ascot. The auction was a highlight of the day which included a fantastic brand-new car as part of the auction. There was also a Gold Cup raffle and best hat competition to keep the guests entertained.
Eddie Hayward, Chairman of Noah's Ark Children's Charity explains:
"Each year we look to make our Royal Ascot day bigger and better, and this year we did not disappoint. We raised £67,710 seeing an increase of £6,000 from last year which we are thrilled about. We welcomed 350 guests to the event who enjoyed a great day of entertainment and we would like to thank them for their generosity in helping us raise so much money for a fantastically important charity in Wales."
Ross Hayward, Asset Manager at Chepstow Plant International says:
"It is such an honour to sponsor this yearly event to help raise much needed funds and awareness of The Noah's Ark Children's Hospital. The hospital provides the much-needed care for children in Wales. Over the past five years we have raised over £300,000 which has helped so many children in Wales and we look forward to working with the charity for many years to come."
This year the Noah's Ark Children's Hospital has a target to raise £1.5 million, the money raised at the Charity Race Day will be used to continue to fund the play specialist team, enable the children's assessment centre to stay open on a 24-hour basis and purchase medical equipment and service improvements at the hospital.
The current Noah's Ark Children's Charity campaign is the 'Tiny Lives Appeal' which was launched last November with an appeal to raise £1 million towards the expansion and enhancement of the neonatal unit which cares for some of the smallest and most critically ill babies in Wales at the University Hospital of Wales.
Chepstow Plant International is based in Caldicot with over 50 years' experience within the plant industry and employs nearly 200 people in the UK. Chepstow Plant International has been working with The Noah's Ark Children's Charity for the last five years to raise awareness and funds. To find out more go to https://www.chepstowplant.com/news.