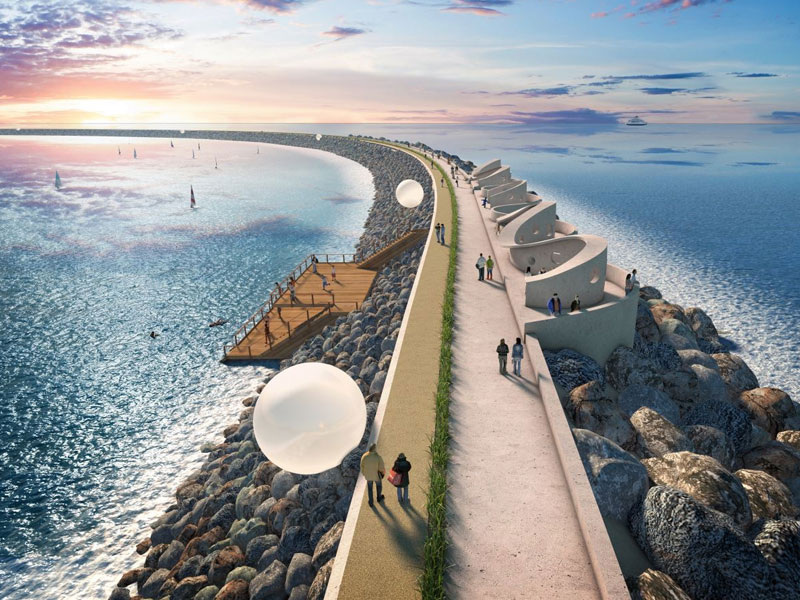 The long wait for a decision on the Swansea Tidal Lagoon project should be over shortly, as pressure has been mounting for MP's to release Welsh Businesses from the current 'limbo', despite the Hendry report concluding that the project was a 'no brainer' nearly 18 months ago.
First Minister Carwyn Jones committed to providing further investment to kick-start the Swansea Bay Tidal Lagoon back in January and has been calling on the UK Government to give the project the green light ever since.
Back in January, the Minister said:
"This would be the world's first tidal lagoon power plant, which would create thousands of high quality jobs, supply a significant proportion of the UK's energy needs and position Britain as a world leader in a new global industry.

"And, yet, the UK government has been dragging its heels for over a year. This is leading to a growing sense of frustration among the Welsh business community and an increasing risk that the lack of a decision will turn into a decision not to proceed.

"Now is the time for the UK government to stop stalling and get on with agreeing a strike price so we can make this transformative project a reality."
Ministers are expected to decide whether to formally back the scheme at a second evidence session for the joint select committee inquiry into the government's delay, expected soon after parliament reconvenes next week.
@lovethelagoon expressed disappointment when Teresa May visited Wales for the Welsh Conservative Party Conference earlier this month and failed to make any statement on the Tidal Lagoon.  There are murmurs too, despite big support from Welsh Conservative members, that senior leaders in the party are opposed to the project.
Many in Wales are finding the Westminster's reluctance to support a project that creates clean energy, will bring much needed jobs to South West Wales and create a major visitor attraction somewhat baffling, and there is hope among Welsh businesses that the forthcoming decision will be a resounding yes for Wales.
Ben Francis, FSB Wales Policy Chair, said:
"The Lagoon is a project which enjoys widespread support across all areas of business and politics and is recognised as an opportunity not just to generate secure, low carbon energy for businesses and homes but also an opportunity to be a hook for regeneration and tourism, complementing the activity around the Swansea Bay City Region Deal.

Businesses are still waiting for the project to be confirmed so that the benefits can begin to be realised.  It is our hope that the investigation by the Committee will rebuild momentum around this project which provides an opportunity for the Swansea region and the UK to be a leader in clean energy generation.

"Businesses in Wales will be looking to the investigation to act as a positive step towards unravelling the reasons that have slowed down the decision-making process, and paving the way for a decision that brings much-needed investment to South West Wales and addresses the future energy needs of business."
South Wales Businessman Brian Stokes of IT Support specialists ITCS speaks for many when he says:
"There was a parliamentary report – and I'm with it's findings.  As Hendry concluded, the Tidal Lagoon is a no-brainer – here's hoping we finally get things underway."