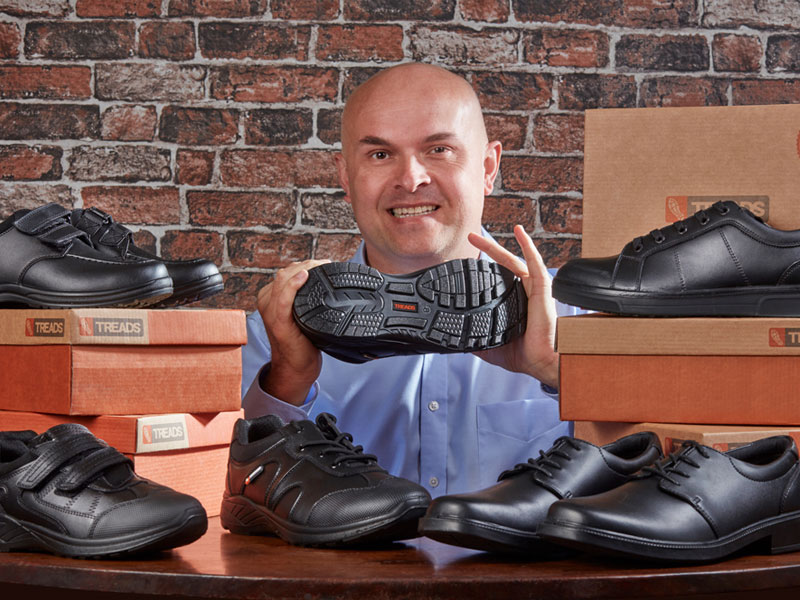 Dad of three Simon Locke is making strides in the children's footwear market with his new brand Treads – and it all started because of his son's constant battle with repeatedly broken school shoes!
Simon, a marketing director with UK-wide shoe and multi-retailer, BVG Group, based in Brecon, had tragically lost his wife 10 years earlier.
As a lone parent to three young children – a son and two daughters aged 7, 4 and 1, Simon adjusted to many new responsibilities, including buying school shoes for his children – and quickly noticed he was having to continually replace his son's school shoes.
Like many parents, Simon chose his children's shoes from well-known trusted high street brands.  He had hoped these would be more durable and hard-wearing but, despite their higher price tag, he found that his son's shoes would regularly return home in various states of disrepair.
Simon said:
"When it came to choosing school shoes, I instinctively chose the leading high street brands that have established themselves as the go-to names in the sector, believing that these would be high quality and long lasting.

"But, despite forking out more than £50 at a time, I found myself having to replace these shoes on a regular basis, sometimes in just a matter of weeks, due to issues with broken straps, worn soles, scuffed leather and stitching coming apart. The cost did not reflect durability and re-purchasing shoes became an all too familiar, increasingly frustrating and expensive cycle."
While many parents share Simon's frustration, Simon decided to do something about the fact that children's shoes were not hardwearing enough .  Simon put he industry knowledge to good use and jumped in feet first, developing his own indestructible, quality school shoe, based on the hard-wearing safety footwear found in the construction industry.
Simon explained:
"I noticed that there was a real gap in the market for high quality, durable shoes that are built to last and take on the everyday activities of school kids. Children don't just sit at their desks during school time – they play football, climb trees, scuff their feet on pavements and kick the shoes off as soon as they get home, all of which takes its toll. The problem is that the current offerings aren't cut out for this level of wear and my experience with my son illustrated this.
"You only need to look at other sectors to see that this kind of durability is possible. This motivated me to create the ultimate school shoe, one that would stand up to the challenges of any school yard."
Over two years of extensive research and development later, with the shoes having been rigorously tested by two school year groups, Treads launched to market, boasting a range of eight styles and sizes to suit boys aged between 6 and 16. Treads, which is part of award-winning UK retailer BVG Group, first established in 1991, has proven such a hit that a girls' range is now also in development to meet the high demand from parents for durable school shoes.
Differentiating themselves from their competitors, the shoes feature reinforced heels and seams, combined with shock absorbing insoles, to provide additional strength and prevent scuffing through stamping and knocks. The entire Treads range also benefits from being constructed using a 'Strobel' technique, which sees the upper placed into a mould with the sole then injected around it to create one unit without the need for any glue – a method that not only creates a strong bond, preventing the material from coming apart, but that also offers additional flexibility, perfect for active kids.
To make sure that the shoes are suitable for growing feet, an additional innovation has ensured that the design includes a removable foot bed to allow for extra room and depth if required, as well as a removable base layer which can increase the width of the shoe from a standard to a wide fitting.
Helpful sizing guides, including a printable paper measure and online size calculator, are available on the website, while a measuring tool can also be ordered for a made-to-measure fit at home. Free delivery and returns are also offered on all orders to help with sizing concerns and make the shopping process easy and stress-free for parents and children alike.
Speaking about the business, Simon said:
"We've come a long way from the moment I decided to start this journey while sitting with my son and despairing at the state of his shoes, and it's amazing to see how this idea has turned into a reality. The feedback I have received from customers, who have all experienced the same problems as me, has shown that there is a huge demand for these types of shoes and reinforced the very reason I started Treads in the first place."
Following the initial boys' range, developed from Simon's personal experience, the girls' range is also currently in development and set to launch in 2019.