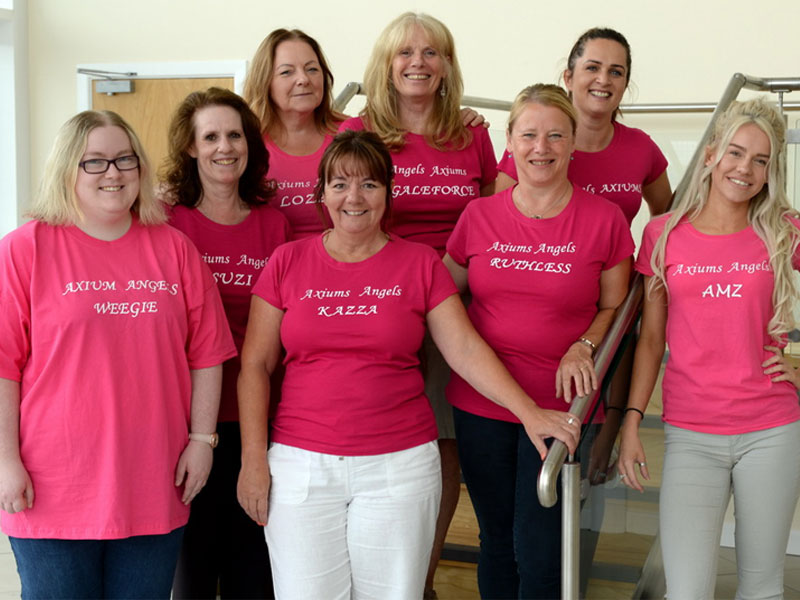 Getting dirty is normally something you don't hear of at Swansea-based Axium Process – the company produce filters for some of the UK's most hygienic applications, including the pharmaceutical industry – and you won't find a speck of dirt in their ultra-clean laboratories.
However, this weekend, a team of runners, nicknamed 'The Axium Angels' are taking part in Pretty Muddy® in Singleton Park to raise funds for cancer research.
Pretty Muddy®isn't like any other fundraising event.  According to the organisers, it's a muddy obstacle course that women of any ability can climb over, crawl under, and charge through.
The Axium Angels are set to tackle the course this Saturday to raise funds for this worthwhile cause.
Marketing Manager Gale Rudd, one of the women taking part, said she was really proud of the team:
"We all do different jobs, but we are a big family at Axium, and just like at work, we'll make sure the whole team crosses the finish line.  I'm really proud of the team – and we'd love it if our suppliers and customers could come and lend their support." 
Pretty Muddy® events start at 10.30am in Singleton Park on 21 July – keep an eye out for the team with Pink T-shirts!