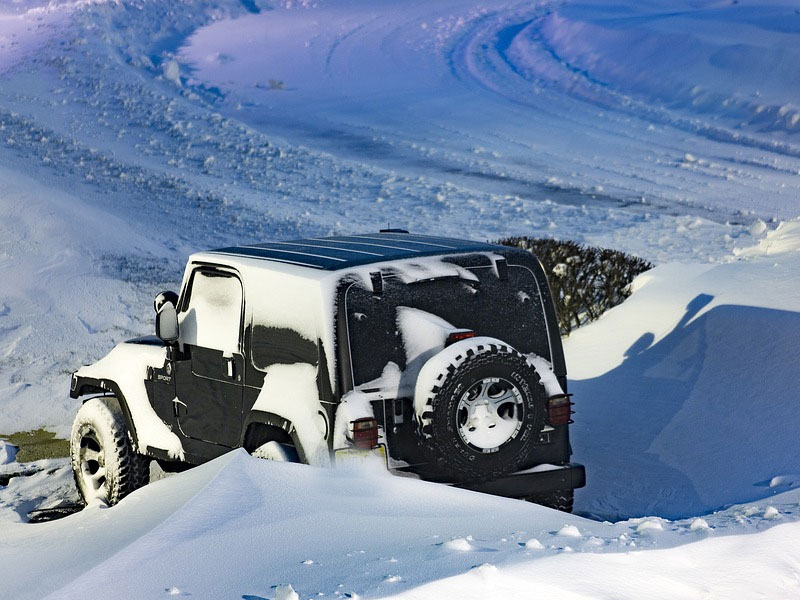 Last month's storms and heavy snowfall have hit both local businesses and Welsh local authorities, with retail sales for March showing the biggest drop in monthly sales since November 2008, and fashion sales in particular showing the worst month since records began.
As Welsh businesses count the cost of a worryingly low month of sales, the cost of gritting roads has left many Welsh councils seeking financial help, as already struggling budgets were stretched by dealing with the extreme conditions.
In a statement, The Welsh Local Government Association said:
"Extreme climactic events such as the heavy snow falls experienced in north Wales have highlighted the resilience of local government emergency planning procedures, while exposing the financial pressures being placed on local councils who have to bear the brunt of an ever increasing repair and clean up bill. 

"While every Council in Wales carries a financial contingency to deal with such emergencies, some north Wales councils now face clean up costs of over £1million in the wake of heavy snowfall, while the bill for repairing damaged roads and bridges after severe flooding hit parts of mid Wales last June cost Ceredigion Council some £525,000. Such events are proving just how quickly the unforeseen financial costs associated with managing extreme weather conditions can begin to undermine local government's financial ability to deliver essential front line services."
Rhondda Cynon Taf council leader, Andrew Morgan, said the authority is between £300,000 and £400,000 over budget.  He explains:
"A certain amount is budgeted each year but there was a snowfall before Christmas, one in early March and another that month…"It took four to five days to clear one access road with 80 vehicles working (across the council area)."
BBC figures reveal many councils have overspent due to the cold weather: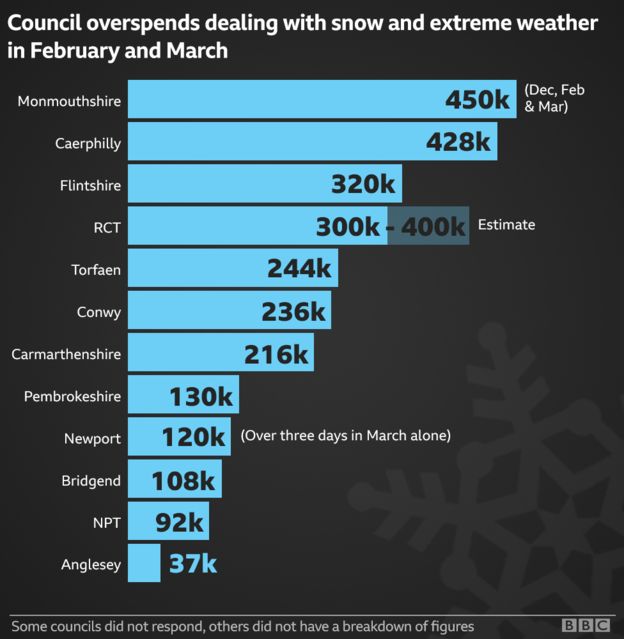 One business who coped better than most was South Wales-based IT support specialists ITCS.  The company, whose services include disaster recovery,  were able to utilise 4 wheel drive vehicles to help essential staff get to and from work safely.  This meant their customers IT systems were kept up and running, despite the bitter cold.   One of the Directors even spent his evenings during the cold spell ferrying key community health workers to see their patients.
Managing director Brian Stokes said:
"This type of situation is something we help businesses plan for, however I have to give huge praise to our team, many of whom went above and beyond the call of duty in the bad weather.  I especially want to praise one of my Directors, Glyn Pearce, who helped transport staff to and from work, then worked alongside the rest of the team to keep customers up and running, and then spent his free time offering 4×4 transport for local care workers and nurses.  The team were incredibly proud of his heroic efforts."
However, many other businesses and local councils in Wales will continue to count the cost – and meteorologists warn that the cold snap is unlikely to be a one-off.
The Welsh Local Government Association said:
"The Environment Agency has recently warned that the UK can expect extreme weather conditions to increase in frequency in the future, and Wales will face significant operational and financial challenges when it comes to maintaining its essential infrastructure, and in ensuring the resilience and wellbeing of local communities. 

"It is now vitally important that Government at all levels in Wales continue to work together to ensure that the impacts of national emergencies are properly managed, including the financial costs of not only dealing with civil emergencies but also the recovery costs that follow." 
It seems our resilience to these conditions is set to be tested – here';s hoping that businesses and councils are prepared.