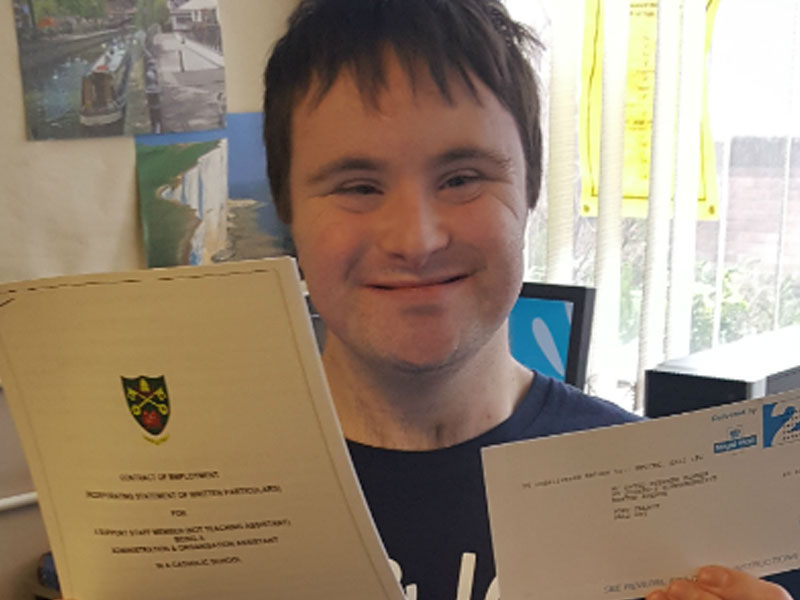 Charity WorkFit has recently announced that it is to receive new funding from the  Active Inclusion Fund to provide support to people with Down's syndrome aged 25+ and their families and carers across Wales.
A 2017 report in the Guardian found that despite 65% of UK-based adults with a learning difficulty being willing and capable of work, in reality only 6% are in employment.  Workfit was set up by the Down's Syndrome Association to increase employment opportunities for adults with Down's Syndrome, and has an excellent track record of finding real careers and meaningful employment for adults who simply have an extra chromosome.
While the charity operates across the UK, the charity has an excellent track record in Wales. In the last three years alone, 37 candidates have benefited from mainstream work opportunities and 24 of these were paid work opportunities for candidates, who are proud of the opportunities to work and earn a living like everyone else.
Candidates are in jobs they want and enjoy and work is also allowing them to expand their friendship circles and social contacts.
Workfit have advised that the new funding represents a recognition of their success over the last four years:
"WorkFit has mainly focused on supporting candidates into work. This funding will also allow us to engage with families and carers of people with Down's syndrome aged 25+ and find out more about what is important to them and how best we can support them.

"We know that information and support for adults with Downs Syndrome can be difficult to find and access – we offer them an opportunity to talk to us and tap into over ten years of WorkFit experience."
The funding will also give the charity the opportunity to visit individuals, parents and carers to discuss a range of topics, including benefits advice, education and meaningful work opportunities including paid work, work experience and volunteering.
Increasingly, the Charity finds that work experience leads to permanent employment, and many candidates just need a chance to prove themselves.
Candidate David (image above, courtesy of WorkFit) is a typical example of a hard-working candidate who was prepared to do voluntary work before securing paid employment. He explains:
"I like to keep busy. I go to a local training centre for a few days a week and I volunteer in a café too. I love to play football and do shows with my drama group.

"I also have a paid job working at a school. I started out as a volunteer but after I did a work placement they offered me a paid job.

"I feel so proud – my first payslip and my contract of employment."
The charity don't just throw candidates in 'at the deep end', but visit the organisation beforehand and deliver free Down's syndrome awareness training, as well as a range of resources and advice about how to support their new colleague in the workplace. This helps staff and managers achieve a greater understanding of the condition, including the facts and myths about Down's syndrome, how to ensure good communication, supporting the learning profile of someone with Down's syndrome and maximising the strengths of their new employee. They also arrange an informal visit to the workplace and a tour so that candidates can get a feel for the environment and look at the type of work they will be doing.
Feedback from the employer training is overwhelmingly positive, with comments such as:
"Very informative training which has helped me understand the need for structure, consistency and step by step instruction."

"I have learnt a great deal about Down's syndrome today and this will help me to support David in future."

"I would recommend this training to any employer."
This approach to working with employers pays dividends and greatly increases the chances of a successful outcome.  While most candidates absolutely love the experience of proper work, employers repeatedly tell Workfit that it is a positive experience for their business, too.
Welsh employer Greggs have recruited a significant number of WorkFit candidates in their shops throughout Wales and have provided the training and support needed to allow several of them to progress to permanent, paid work.
The employer was recognised at the Understanding Disability Awards 2017, and Harry and Helen, two permanent employees who have benefited from this partnership, joined their team members from Greggs to receive the award.
Helen said: "I'm really pleased that Greggs have won the award. I love working at Greggs. It has been lovely to see the other award winners too".

Harry added:  "I have had a fantastic day, I have really enjoyed being with so many people I know. It's great that Greggs won the award".
The Down's Syndrome Association are passionate about the WorkFit programme  and would love to speak to Welsh employers who could offer work experience or a paid position.  They can get in touch here.   Find out more about the Down's Syndrome Association.