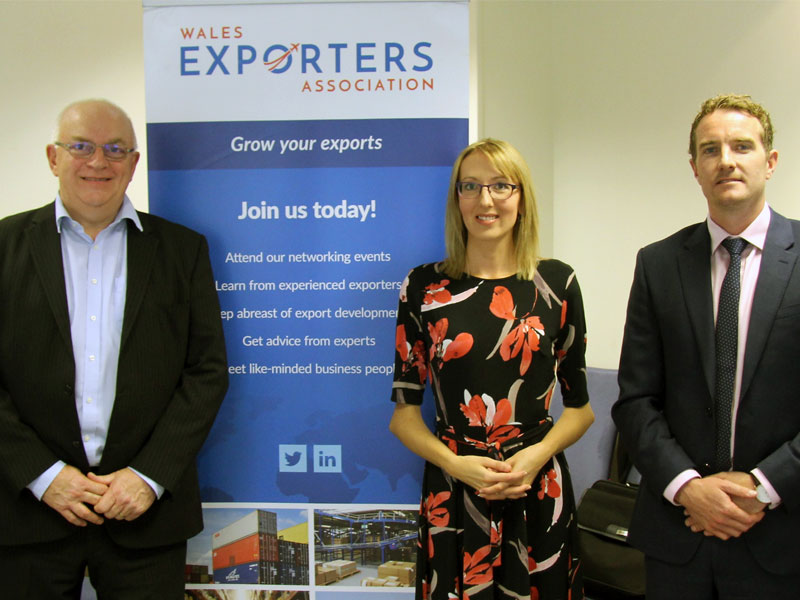 Importing and exporting to and from the UK brings billions to the economy every year, along with thousands of jobs in the process. However, the uncertainty surrounding Brexit could have major implications for the import and export industry.
That was a key conclusion of a recent Wales Exporters Association event held in Swansea. The discussion surrounded the implications of Brexit and how the port system in the UK helps exporters. It also focused on trading with Japan, a specialised subject of the speakers.
Keynote speaker Sarah James, business development manager within the exporting department of the Welsh Government, agreed. She advised that businesses that trade overseas need a contingency plan in place for when a deal is reached – this is not something that should be compromised or put on the back burner.
James, who lived and worked in Japan for two years, also discussed the importance of that economy and its opportunities. She noted that Welsh exports to Japan were valued at £200 million in the April 2018 statistical release, proving the strong connection Wales has with Japan. The Welsh Government also has an office based in Tokyo, being a key market for many Welsh businesses.
James spoke about the history of investment between Wales and Japan, which has been strong since the 1980s. James informed guests on the cultural links between the two countries, as well as highlighting programmes that take place in the UK to support Japan, such as Japanese Saturday schools and the Japanese Exchange and Teaching Programme (JET), which sent 184 young people from the UK to Japan to teach English in 2015.
James commented:
"Japan is the world's third largest economy in terms of GDP. It is the powerhouse of Asia and such an innovative nation. The opportunities in Japan are far reaching for businesses, especially those in Wales due to the strong connection. 

"As long as your business is needed out there – it isn't necessarily about how much investment you need, it's more about the demand for it that matters to the people of Japan."
Key speaker Richard Butler, commercial manager of ABP South Wales, highlighted the impact the UK port system has on the economy. He stated that ABP contributes £1.5 billion to the UK economy every year, supports 22,000 jobs in Wales and collectively handles over 12 million tonnes of cargo annually across five of its ports in Wales alone.
Butler also informed the cruise market is set to pick up and South Wales will see six stop-overs in starting in July 2018, and enquiries for 2019 already suggest that this figure will be exceeded next year.
With regards to Brexit, Butler stressed that the UK ports and maritime sector will play a key role in post Brexit Britain.
However, until the Brexit deal is done, details of how customs checks will operate in practice are thin on the ground, leaving many within the freight industry concerned at the inability for them to plan ahead.
The Freight Transport Association have publically called for more clarity from the Government in terms of the plans they have for new customs procedures for importers and exporters.
South Wales international heavy haulage specialists Trojan-Mek say the lack of clarity is making planning a challenge for transport operators.     Director Leighton Price told Welsh Business News:
"If our loads have to be offloaded for checks, it won't be a two-minute delay for our customers – heavy haulage can't be offloaded quickly. We need clarity now, because if we need to invest in more vehicles and additional trained staff to cope with additional delays, we need several months to acquire additional heavy transport vehicles and even longer to find skilled, professional staff. We simply cannot do that overnight."
The FTA summed up the mood of the industry perfectly:
"How can business be expected to trade without transport? That needs to be uppermost in the minds of negotiators as they move on to talks about the future relationship with the EU. "
Port owners, businessmen, logistics operators and Welsh exporters are ready and willing to start planning – and they need to do so sooner rather than later.