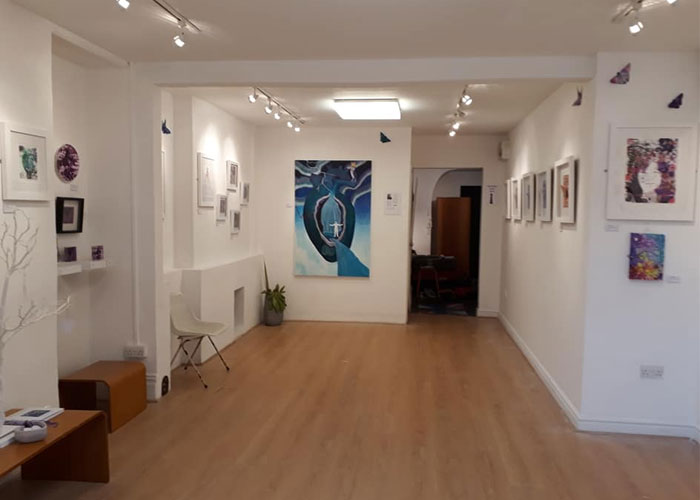 Grey Dog Gallery in Mumbles is currently home to the first 'comeback' exhibition from reknowned Swansea Artist Sharron Jones, featuring her HEARTScape collection.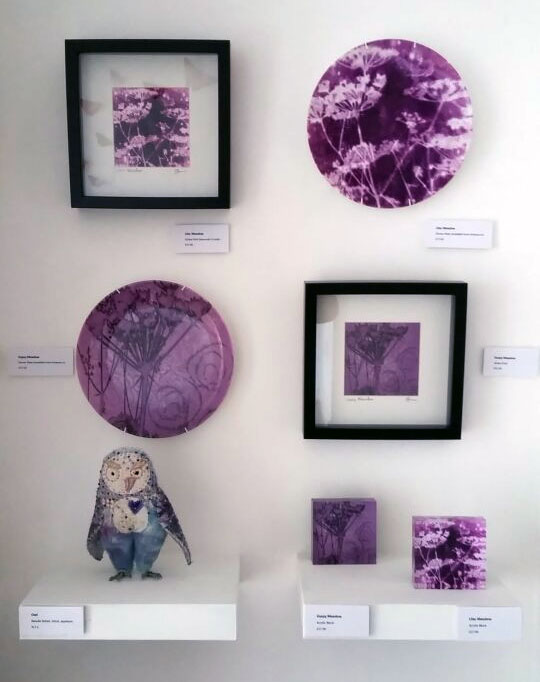 The upbeat, beautiful and inspiring collection is a visual journey of Sharron's own recovery from a series of disabling health conditions which she successfully treated with diet, naturopathy and natural medicine, losing 8 stone in the process. Sharron literally glows with vitality now, and this is her first exhibition in many years.  The collection includes a variety of textiles, paintings and ceramics and has been warmly welcomed by visitors, who have enthused about the rich colours and painstaking detail.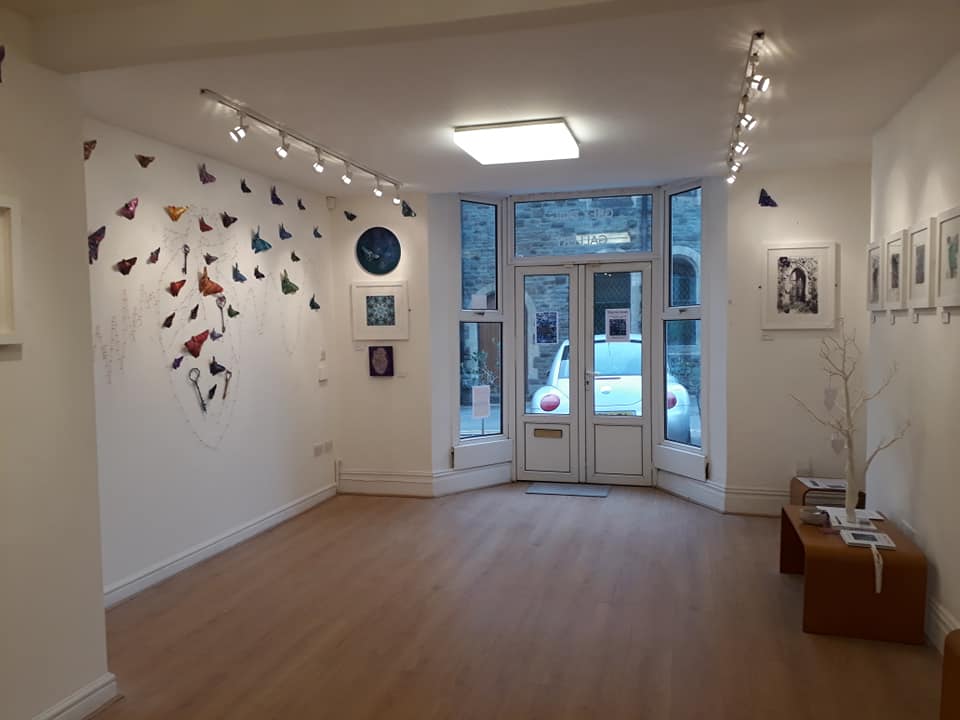 The uplifting collection features lots of transformation symbolism and is rich in butterfly imagery.  Sharron explains:
"The butterfly is one of the reoccurring motifs in my artwork, serving as a symbol for the embodiment of spiritual growth and transcendence. The transformation from caterpillar to butterfly demonstrates this idea more succinctly than any other creature on earth."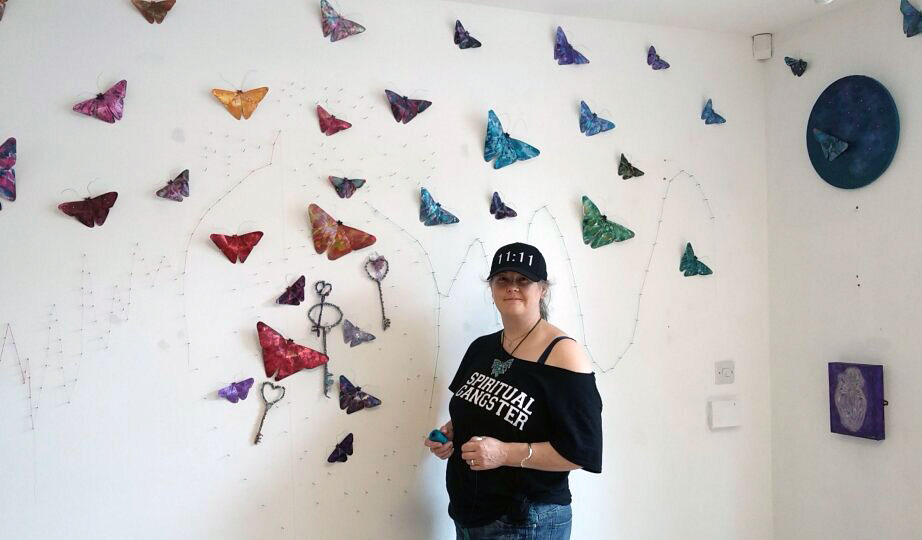 Sharron, aka The Purple Alchemist, has a BA Hons in Contemporary Textile Practice, and also works as a Costume Designer alongside her husband, Andrew Jones in their production company, North Bank Entertainment.  North Bank Entertainment is one of the world's most profilic horror production companies and boasts a string of top ten video credits to their name.  The company are producing 8 films this year alone.
Far from living it up in Hollywood, this quietly talented couple live, write, design and work in Mumbles, and just as Sharron has stood proudly alongside Andrew as the film accolades have come in, Andrew stood proudly alongside Sharron on her opening night, chatting to a packed room of guests about the healing journey that inspired his wife's latest collection.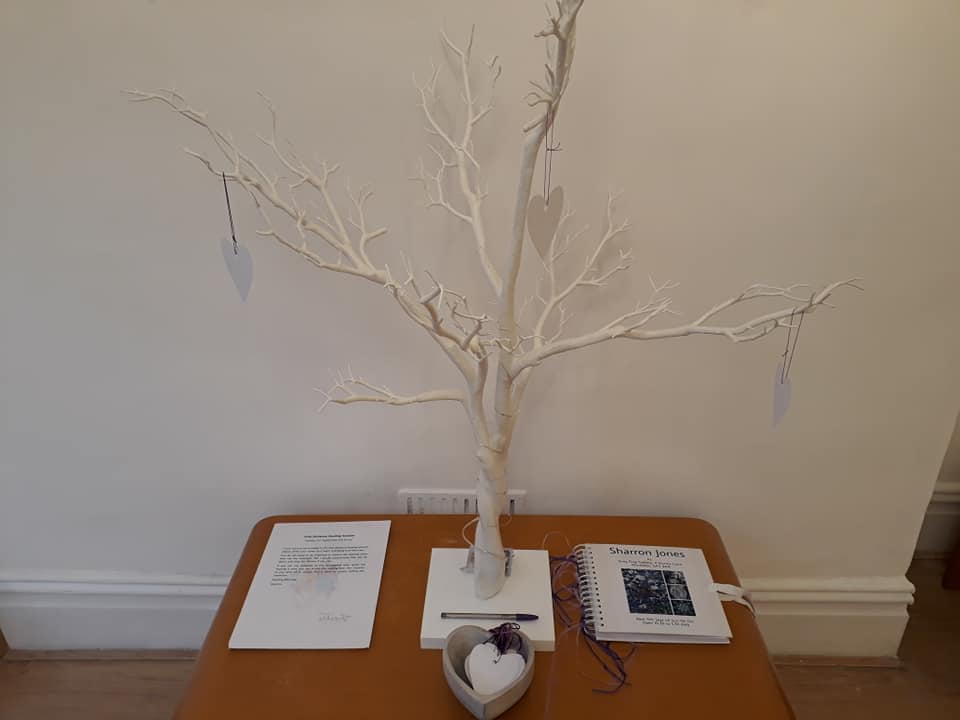 As well as sharing her outstanding creativity with the world, Sharron is keen to share the healing talents she has picked up on her own journey.  As part of the installation, Sharron, a qualified reiki healer, is offering free distance healing to anyone who would like it.  To take part, simply write your name on one of the hearts, and hang it from the beautiful tree provided.
Grey Dog Gallery can be found at 4 Dunns Ln, The Mumbles, Swansea SA3 4AA and Sharron's work will be on display until 7 October.  Don't miss it!
Please note: photographs and artwork designs on this page are the property of Sharron Jones and may not be copied, reproduced or used in any way without express written permission.