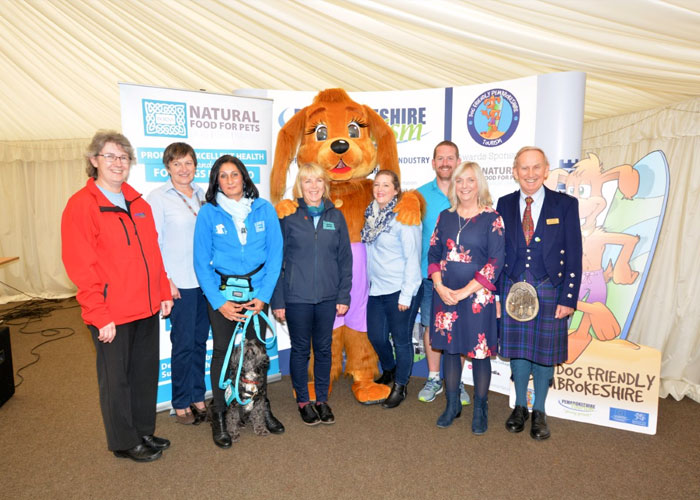 Taking your dog on holiday to West Wales has never been easier thanks to the Dog Friendly Pembrokeshire Tourism Awards.
11 Pembrokeshire businesses were crowned the most dog-friendly in the region at a special judging ceremony hosted by Burns Pet Nutrition and Pembrokeshire Tourism.
The awards, now in their second year and the only of their kind to be held in the UK, celebrate and recognise the Pembrokeshire businesses that go above and beyond to welcome dogs to the area, covering a range of categories including best pub, town, beach and hotel.
Cwm Connell Coastal Cottages took home the award for Best Self-Catering Accommodation Provider thanks to its forward-thinking approach to dog guests. As well as the usual treats and dog beds you might expect, Cwm Connell has introduced special showers, doggy dryers and washing machines fitted with a net to catch dog hairs. There is even a gated patio to ensure dogs have a safe space to exercise.
For those looking for a bite to eat, Fuchsia Caffe in Tenby, winner of the Best Café category, offers table service so that diners don't have to worry about manoeuvring between tables and counters with a dog in tow. There is also a doggy menu, free biscuits and blankets. Meanwhile, The Brewery Inn Cosheston took the prize for Best Pub, winning over Burns By Your Side judges with its impressive dog toileting facilities and treat selection.
For those on a budget, Best Campsite category winner Coastal Meadows allows two dog guests to stay for no extra charge and has its very own complimentary Barking Guide with a list of dog-friendly places to visit in the local area.
Wolfscastle Country Hotel & Spa was awarded the title of Best Hotel, boasting a resident dog hotelier named Freddy as well as designated areas for guests to relax with their pooch. The cost of housekeeping is great value too.
Other winners from the awards include: Best Dog Friendly Beach – Freshwater East, Best Dog Friendly B&B – Moreton House, Best Caravan Park – Nash Mountain Farm, Best Dog Friendly Town – Saundersfoot and Best Dog Friendly Attraction – Carew Castle & Tidal Mill.
The awards were judged by Welsh pet food maker, Burns Pet Nutrition, which has been running for over 25 years. The firm is on a mission to promote responsible dog ownership and to help pets and owners lead happier, healthier lives. The company has its very own charity which funds the Burns By Your Side reading-to-dogs scheme, committed to helping children improve their literacy and communication skills. BBYS volunteers and their dogs assisted with the judging process.
Burns Founder and Veterinary Surgeon, John Burns, said: "We are extremely passionate about developing the bond between humans and animals. These awards allow us to celebrate this and praise Pembrokeshire for its efforts in ensuring its facilities welcome holiday makers and their animal friends.
"Taking your dog with you on holiday eliminates the need to find care arrangements, which is often a major concern for pet owners when embarking on a holiday."
New research has shown that over a quarter of UK households own at least one dog and in 2018 alone, £23 billion was spent on UK staycations, with 59 million staycations taken. Taking Buster on the family holiday is fast becoming the norm.
Commenting on the awards, Dennis O'Connor, Tourism Liaison Officer at Pembrokeshire Tourism, said: "Pembrokeshire is a very special place for visitors and we are delighted to have been able to recognise the work of dog-friendly businesses throughout the county as well as our fantastic towns and beaches.
"Many people now take two or more holidays a year and tend to have a week abroad and a week exploring the UK. Increasingly, visitors are looking for dog friendly destinations to avoid the distress of leaving their pets in kennels."
This surge in dog-friendly holidays coincides with the looming uncertainty surrounding EU travel post-Brexit. The government announced last month that once the Brexit bill has passed, holiday makers wishing to take their dogs from the UK to EU and back may have to give 4 months' notice.
Currently, dogs can holiday throughout Europe via the pet passport scheme, but Brexit could result in blood tests, vaccinations and vet visits with up to a 30-day wait before travel.
The full list of winners from the Dog Friendly Pembrokeshire Tourism Awards are as follows:
Best Dog Friendly Town – Saundersfoot
Best Dog Friendly Beach – Freshwater East
Best Dog Friendly Pub – The Brewery Inn Cosheston
Best Dog Friendly Cafe – The Fuchsia Caffe & Caterers
Best Dog Friendly Caravan Park – Nash Mountain Farm
Best Dog Friendly Attraction / Day Out – Carew Castle and Tidal Mill
Best Dog Friendly Campsite – Coastal Meadows, Amroth
Best Dog Friendly Hotel – Wolfscastle Country Spa Hotel & Restaurant
Best Dog Friendly B&B / Guest House – Moreton House
Best Dog Friendly Self-Catering Accommodation – Cwm Connell Coastal Cottages
Best Dog Friendly Marketing Campaign – FBM Holidays