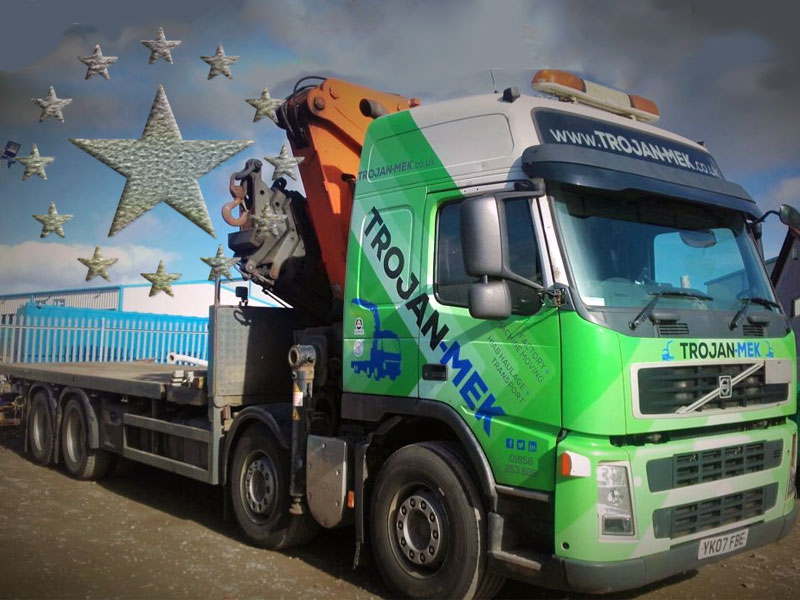 South Wales Machinery Movers Trojan-Mek are concerned that with just 12 months to go until Brexit, professional haulage businesses still have no idea how the Government plans to protect integrated supply chains, of what customs arrangements there will be at the various UK ports and which standards will apply in terms of compliance when the UK formally exits from the EU.
While every logistics business is calling for clarity, potential changes could hit the heavy haulage market harder, because they cannot quickly load and unload their cargo in order to satisfy potentially new inspection rules – unless satisfactory agreements are put in place, delivery schedules could be heavily impacted and businesses need to plan ahead.
Trojan-Mek are not the only business to raise concerns.  The Freight Transport Association, which represents over 17000 logistics organisations in the UK, is urging the government to up the pace on the negotiation of trading arrangements, or risk damaging integrated supply chains.
"Twelve months is a very short time in business terms," says Pauline Bastidon, Head of European Policy at FTA
She continues:
"With such a focused timescale, it is unrealistic to expect logistics companies and supply chain managers to wait until the eleventh hour to learn what their new operational arrangements will be and change everything at the last minute.  There are too many open questions, when so much is at stake, and if industry is to keep Britain trading, clarity on key areas is needed in the next three months, not 12.
"Arrangements for customs, transport or standards are still unclear, and no solutions to manage borders   so that disruptions may be avoided have been agreed yet.  Logistics companies and supply chain managers also need urgent clarity on what the UK's future immigration policy will look like.
"Currently, logistics operates relatively seamlessly, with minimal customs checks and no need for lengthy inspections at the borders that can delay lead times significantly.  Two extra minutes spent checking each truck during peak hours could result in lengthy queues of almost 30 miles on each side of the border, which could have important knock-on effects on the wider transport networks and on supply chains that often rely on just-in-time processes."
"12 months is the bare minimum for planning factory relocations." says Leighton Price, Operations Director for Trojan-Mek
Leighton believes that for professional machinery movers, the issues are even more complicated than for other logistics professionals:
"If our loads have to be offloaded for checks, it won't be a two-minute delay – heavy haulage can't be offloaded quickly.  We need clarity now, because if we need to invest in more vehicles and additional trained staff to cope with additional delays, we need several months to acquire additional heavy transport vehicles and even longer to find skilled, professional staff.  We simply cannot do that overnight."
 "Furthermore, with many of the international factory relocations we undertake, 12 months is the bare minimum for planning.  Our aim is to provide an expert service to our customers who rely on us to advise them on what permits will be required.  This could prove a real challenge, when the Government haven't given logistics professionals any guidelines to work with at this stage, even though Brexit itself has created an increase in enquiries for factory relocations to the EU."
"Arrangements for aviation, road haulage and rail freight are still unclear" say the FTA
The FTA are especially concerned at what will happen if permits are required under any post-Brexit system, saying:
"Arrangements for aviation, road haulage and rail freight are still unclear at this stage.  We still do not know on which basis and how many trucks will be able to cross the borders.  In the absence of a liberalised agreement for road transport, industry will have to rely on a very limited and constraining system of permits which would cover less than 3% of the needs, woefully under what will be required.  How can business be expected to trade without transport?  That needs to be uppermost in the minds of negotiators as they move on to talks about the future relationship with the EU.  
"Urgent clarification is needed on the location of potential checks on goods, on practical customs issues – such as whether the UK will sign up to the Common Transit Convention and what the Customs classification system to be used on the UK side will be, the status of vital European logistics workers following Brexit and more.  Integrated supply chains and close trade ties rely on these details to be able to operate effectively after Brexit.
"Whatever happens, the logistics industry is committed to ensuring that the UK can trade efficiently with its nearest neighbours, and we look to government to support the industry over the coming year in ensuring that Britain can keep trading for the future benefit and growth of the nation's economy."