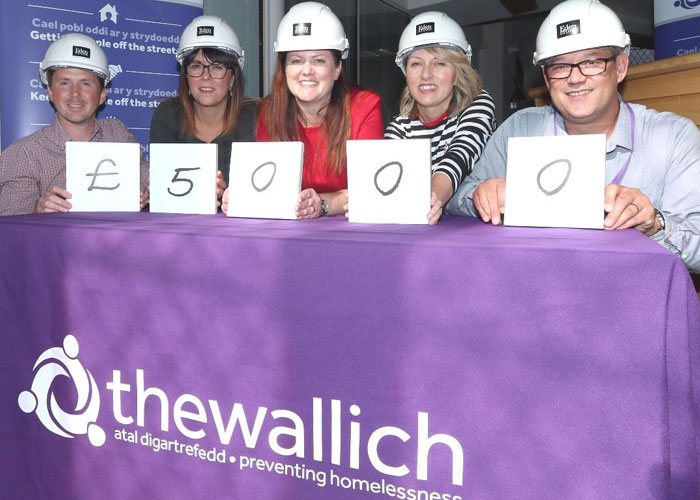 A new foundation supporting community projects has been launched by Edenstone Homes with its first grant of £5,000 awarded to homelessness charity, The Wallich.
The Edenstone Foundation has been formed by Magor-based Edenstone Homes to support communities and causes that help change lives. The foundation will receive a proportion of the proceeds of every Edenstone home sold across South Wales and the South West of England, with the funds then distributed to community projects.
The Edenstone Foundation has partnered The Wallich, awarding the charity £5,000, ahead of World Homeless Day (October 10).  Under the partnership, the foundation also hosted a gala dinner in aid of The Wallich at Cardiff Exchange Hotel.
Martin Taylor, managing director of Edenstone Homes, explained:
"Edenstone is a rapidly growing business and as a responsible corporate citizen we want to give something back to communities. For every home we sell, we are making a contribution to the Edenstone Foundation and that money will be distributed via a grant process to support an array of grassroots projects. It means that as Edenstone expands and sells more homes, the funding available for good causes will increase.

"As a homebuilder we are acutely aware of the housing shortage across the UK and are playing our part in tackling the issue by building more homes. We also appreciate the wider issues around housing and homelessness and partnering with The Wallich is a natural fit. We hope the grant of £5,000 will be a welcome boost to helping provide emergency accommodation for the homeless, particularly as the cold weather sets in."
The Wallich has more than 70 projects across Wales and aims to get people off the streets, keep people off the streets and, create opportunities for people. Last year, the charity worked with more than 8,000 people who were homeless or vulnerably housed.
Mike Walmsley, corporate fundraising manager for The Wallich, said: "We are so grateful to the Edenstone Foundation for making us the beneficiaries of their first ever grant. Successful corporate partnerships aren't all about the money – they work best when both parties share the values and have the vision to work together creatively to benefit those most in need. We look forward to working closely with Martin and his team in future."
Find out more about the Edenstone Foundation via http://edenstonefoundation.com/. For more about The Wallich see https://thewallich.com.