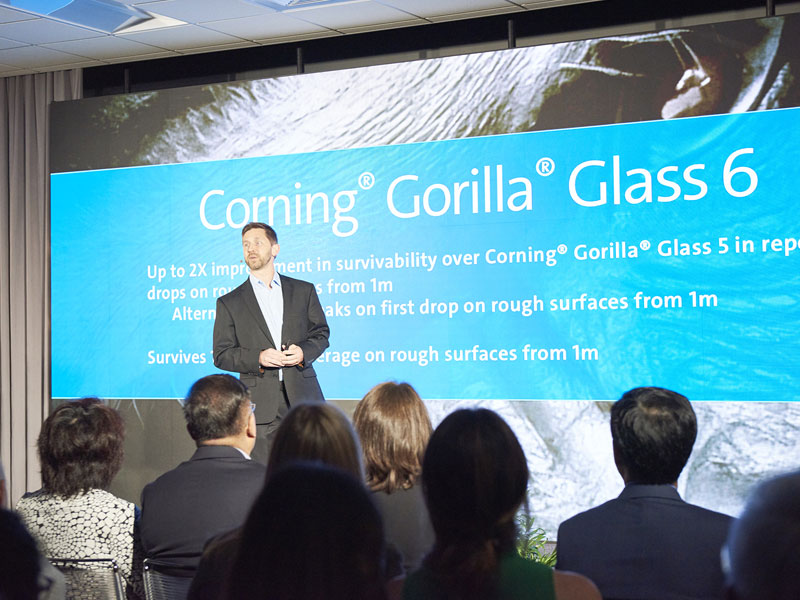 Welsh business mobile provider ITCS have welcomed news that mobile phone screen manufacturer Corning are introducing an even tougher version of their famous Gorilla® Glass, which Corning claim is the most durable cover glass to date.
Having been introduced in September 2007, and leading the industry since, Corning's Gorilla® Glass screens have provided serious protection for phones against drops and falls, however we've all got that one friend who seems to get through screens like it's going out of fashion – even with Gorilla® Glass.  A recent worldwide Toluna consumer study revealed that, on average, people drop their mobile phones seven times a year, with more than 50 percent of the drops occurring at 1 meter or below.
While existing Gorilla® Glass has drop protection, the latest incarnation claims to offer drop protection from higher than ever before.  Corning claim the new glass will be more resistant to damage from the effect of the multiple falls and impacts which tend to incur through modern day living.   Lisa Baker watched a typical incident first hand – as her daughter bent to pick up her child, her mobile phone slipped from her pocket, fell less than a metre and hit the ground, shattering the screen.  Lisa says:
"These incidents happen every day of the week, parents of young children subject their phones to the same stresses of life that they are under, and phone drops are ridiculously common.  In my daughter's case, the screen replacement wasn't covered by phone insurance and cost her £85 – and she was without her phone for a few days while it was replaced."
While traditional screens have been built to withstand single drops, the new glass is an entirely new material engineered specifically to survive MULTIPLE drops.  Initial results are promising.  On average, in lab tests, Gorilla Glass 6 survived 15 drops from 1 meter onto rough surfaces, and is up to two times better than Gorilla Glass 5. Under the same test conditions, competitive glass compositions, such as soda lime and aluminosilicate, did not survive the first drop.
Gorilla Glass 6 is an entirely new glass composition that can be chemically strengthened to give it significantly higher levels of compression than is possible with Gorilla Glass 5. This enables Gorilla Glass 6 to be more resistant to damage," said Dr. Jaymin Amin, vice president of technology and product development, Corning Gorilla Glass and Corning Specialty Materials. "Moreover, with breaks during drops being a probabilistic event, the added compression helps increase, on average, the likelihood of survival through multiple drop events."
Gorilla® Glass 5 is the best currently available protection and is chosen by most major mobile phone manufacturers.  ITCS, who supply the latest handsets for their business clients, were quick to welcome the new technology.  Brian Stokes, ITCS Managing Director says:
"We don't have a particularly high rate of attrition with our business mobile handsets, but we are always excited when we learn of new technology that will help our customers.  Cloud technology adoption is on the increase, so the devices we use at work are increasingly used at home too, increasing the risk of screen damage.  it's great to hear that more resilient glass will be available on mobile handsets in the near future."
Image credit: Corning Incorporated