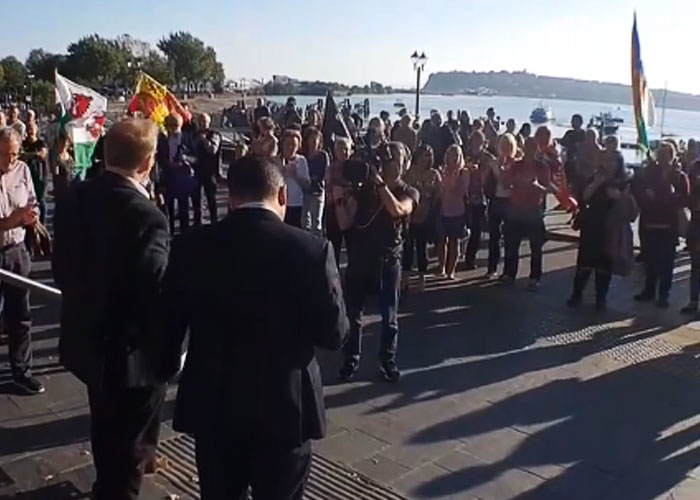 After a heated demonstration outside the Senedd, Welsh MPs last night voted not to revoke the licence granted by NRW which allows EDF Energy to dump waste mud from Hinkley Point in Somerset onto a sub-tidal sandbank just a mile off the coast of Cardiff
Protestors: Mud 'not tested enough'
Protestors argue that the mud has not been tested enough for safety from radiation, an argument which has raised support from both nuclear experts and Cian Ciarán, keyboard player with the Super Furry Animals.  The musician led a legal bid to halt the dumping, with nuclear experts asserting that more testing was needed in order to assure the safety of welsh residents, although legal action was suspended pending the outcome of yesterday's debate in the Senedd.
Ahead of the debate in the Senedd, protesters gathered, from local councillors to Gower surfers, all hoping to persuade AMs to revoke the controversial licence.
McAvoy: Weapons grade plutonium accidents at Hinkley Point A
AM Neil McAvoy and Plaid Cymru leader Alan Price addressed protestors before joining the debate.  McAvoy said:
"If I was a fiction writer, I don't think I could make this up. They plan to dump 320,000 tonnes of mud dug up from outside a nuclear power station without even testing it properly.  In the 1960's, there were accidents at Hinkley Point A with weapons grade plutonium in the cooling point.  That is an established fact."
Price: Wales is not for sale
Alan Price said:
"Geology in Wales is where politics and history collide….virtually everything of any value that you could dig up from the ground was dug up in Wales.  Coal, slate, aluminium, copper, lead, aluminium…. not to line our pockets but to fuel the wealth and the greed of others.  Our landscape carries the scars – now they have dug up everything of value, they want to give us their mud….Wales is not for sale to others as is has been in the past."
Expert: as fragments break up, they could emit more particulate matter
As well as protestors, experts had backed the withdrawal of the licence.
Dr Richard Bramhall of the Low Level Radiation Campaign – a former member of the UK Government's Committee Examining Radiation Risks of Internal Emitters (CERRIE) – has previously written to NRW raising concerns about whether uranium, plutonium and other alpha-emitting elements were present in the mud, saying:
"As larger fragments break up, any given amount of particulate matter will become more mobile, be more easily inhaled into the deep lung and the lymphatic system, and will emit more radiation."
Tim Deere-Jones, a self-employed marine pollution consultant, said that years of discharge means more detailed study is needed:
"Those sediments had been in receipt of discharges from the Hinkley A nuclear station and the Hinkley B nuclear station… If you've got 300,000 tonnes of that stuff being dredged and dumped so close [to south Wales] you need to know exactly what you've got in it in terms of radioactivity."
NRW: Mud is safe, tests were carried out and licence was lawfully granted
NRW insists the mud is safe, and that the licence was lawfully granted, explaining in a statement:
"Every element of the application was considered thoroughly including testing of the sediment from the dredge sites by independent experts in accordance with international standards.

"The licence required NNB Genco to undertake additional sampling and monitoring. These requirements have now been fulfilled and we've given the company our approval to undertake the disposal activity.

"We're confident the proposed activity will not harm people or the environment."
The Welsh Government, however backed NRW's decision and they remained steadfast on their position during last night's debate.
Griffiths: Protestors "deliberately misleading the public"
Lesley Griffiths, Cabinet Secretary for Energy, Planning and Rural Affairs told AMs accused some activists of deliberately seeking to mislead the public on the issue, saying that the licence was properly granted and that the mud was safe.  She said:
"Whilst I of course respect the right to protest I am very concerned by the ongoing scaremongering and lies being circulated as part of the campaign against this marine licence which has resulted in unnecessary public concern for the people of Wales."
Rathbone: Cardiff site is "most environmentally appropriate for construction waste."
This view was echoed by Cardiff Central Labour AM Jenny Rathbone who said protestors had "whipped up concerns about something that isn't present" and agreed that the site was
"the most environmentally appropriate place to be disposing of construction waste."
AMs voted 26 to 24 to not withdraw EDF's licence, which means dumping operations will continue, although many in Wales remain unhappy with the decision.
Hodges: blue flag beaches glazing over with mud
County Councillor Nick Hodges, who represents Barry Island, told protestors the issue was about more than just the potential radiation.
Several weeks since the dumping started, he invited protestors to visit the island's blue flag beach, saying:
"We have a beautiful beach, a blue flag beach,  that is now starting to glaze over with mud… it's not just the nuclear issue, that's bad enough, but it's the mud itself."
McAvoy: We will continue to campaign
Neil McAvoy expressed his disappointment with the result of last night's debate, and vowed to continue.
"They just voted to allow mud from outside a nuclear reactor in Somerset to be dumped in Wales, without proper testing.  There were shouts of "shame on you" as they left the Assembly. Couldn't agree more."
McAvoy told protestors he believed the decision to grant the licence was unlawful and vowed to continue campaigning for the licence to be withdrawn.