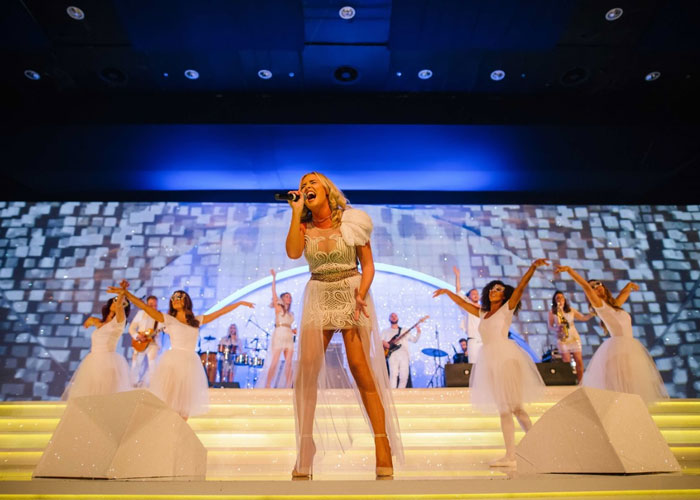 A Llanelli based start-up that specialises in providing live music for corporate events has set a turnover target of £555,111 following a successful second year of business, which has seen its acts perform for clients including Google, Sony, and Coca Cola in locations as far as Abu Dhabi and South Korea.
Music HQ, which creates and manages its own portfolio of professional bands and musicians, has achieved a turnover to the tune of £180,000 in two years. The company, which has six full time employees and has provided live music for more than 1,000 events around the world, is aiming to boost its portfolio of corporate clients over the coming months as many companies begin the planning process for end of year events and celebrations.
The company's founders, Martin Goddard, Suzanne Aston and Ryan Aston, became disillusioned with the traditional approach of music booking agencies after more than 50 years combined experience of working in the industry for international superstars including Rod Stewart, Robbie Williams, Katherine Jenkins and Cee Lo Green.
Music HQ differs from a more traditional booking agency. The company doesn't just list and promote acts for a fee; it creates, develops and manages all of its bands, which are then available for bookings exclusively through Music HQ. Clients benefit from access to Music HQ's wide portfolio of acts while only dealing with one point of contact.
Music HQ manages and supports the artists, facilitating weekly rehearsals and performances together, and as part of the Music HQ collective, the bands are mentored and championed by the company's directors as they forge successful careers in the live music industry.
Suzanne Aston, who once played Sandy in the London West End's Grease the Musical, now leads the client support arm of the business and explains:
"We spotted a gap in the market for an agency that doesn't just book bands, but actually creates bands from scratch and manages them exclusively. We curate those bands from a huge network of top quality professional musicians, many of which have worked with us when supporting some of the world's biggest superstars on the road, and help shape them into covers bands of the highest standard.
"Remember One Direction? They entered X Factor as solo musicians, were transformed into a boyband and left the competition as one of the biggest acts on the planet. You can think of what we do as similar to the judges' role in that process, minus the reality show drama and adding the professionalism that only comes with years of experience operating at the top level."
Suzanne Aston is a vocalist for one of Music HQ's most in demand bands, iPop, which has recently returned to Wales after performing at a series of private parties for Sheiks in Dubai. Her husband and co-director, Ryan Aston, sits behind the drum kit for iPop, when taking a break from the gig circuit with X Factor winner and 'Impossible' singer, James Arthur, and popular Irish songstress Imelda May. iPop specialises in covering contemporary chart music and hits through the ages, and features professional session musicians who have graced the stages with the likes of Kylie Minogue, Stereophonics and the Backstreet Boys.
Music HQ is currently responsible for 15 different acts across musical genres including pop, rock, soul and more. The company has secured work for more than 50 individual musicians since its inception, providing live music for international clients including Mercedes, Hilton Hotels and Resorts, Virgin, and Samsung at a variety of events around the world.
Martin Goddard, director and entertainment coordinator for the company, said:
"We've had a really promising start and it's been fantastic to work with such a broad range of companies, musicians and venues around the world. We have created a collection of totally unique bands and solo musicians, handpicked from our own network of known and trusted professionals, and can offer the perfect live music match from that selection for each specific brief.
"Music HQ manages the entire process, from planning stages to working with the musicians and handling the logistics on the day, including equipment provision, set up and take down, public liability insurance and everything in-between. It's a service focused on making our clients' job easier and ensuring their event entertainment is something special."
As well as offering a variety of different bands for corporate events, Music HQ also arranges themed shows with set lists to match. These have included shows inspired by the 2017 musical, The Greatest Showman, 1960s, '70s, '80s classics, or 'best of British hits' and 'rock anthems through the ages'.
For more information and booking enquiries, visit musichq.co.uk or call 01554 402367.