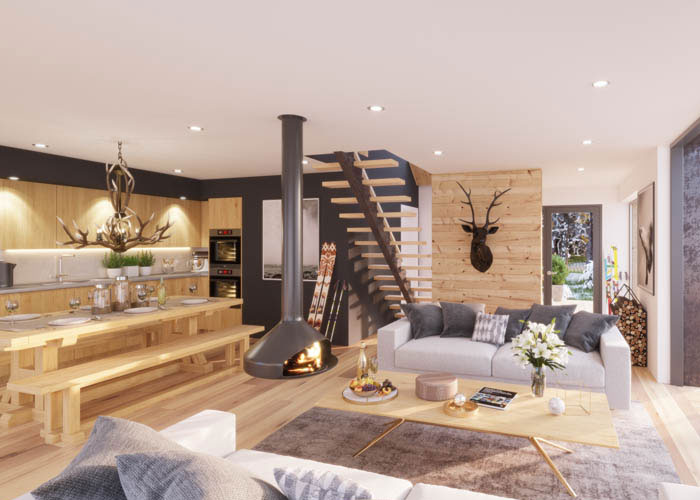 With two thirds of holidaymakers now preferring a UK based holiday, property investment specialist, Select Portfolio, has launched a number of stylish 'themed' super lodges for sale at Afan Valley Adventure Resort, which is set to become Wales' most coveted holiday address.
Assuring investors ten per cent net assured returns for the first five years, eight per cent for another five thereafter, and an attractive return on investment of up to 268%, the lodges offer owners a far higher return on investment than the average residential buy-to-let purchase.
Developed by NPD Chairman of Leisure, Peter Moore, former CEO of Center Parcs, and Northern Powerhouse Developments' Chairman, Gavin Woodhouse, the multi-million-pound 480-acre resort will be the UK's largest indoor and outdoor adventure resort. Key attractions will include an Aqua Park, Forest Adventureland, Spa Retreat, Alpine ski (stet) slope, off-road drive experiences, BMX tracks and a Bear Grylls Survival Academy, all designed to reflect the demands and needs of today's modern family, groups of friends and couples, seeking an exciting, adrenaline-fuelled break.
400 architecturally striking lodges will be built in total, ranging from two to four bedrooms. Reserving a lodge for just £1,000, investors can choose either a 'classic' or 'luxury' design, in one of four themed styles – 'Alpine', 'Forest', 'Xtreme' and 'Trax and Trails.' Each theme represents the main activity zones on the resort, allowing the resort's guests to truly engage with their surroundings. The interiors have been created by top designers, offering state-of-the-art technology and accessories, combined with bespoke furnishings, impressive fixtures and fittings, and a decking hot tub, to create a contemporary feel and the perfect retreat after an adrenaline-fuelled day.
Prices for the super lodges range between £205,000 and £240,000, with two purchase options available.
The two-bedroom 'classic' lodges are available under the developer-deferred option, where investors are able to offset the total capital outlay of £205,000 to a cash input of £82,000, by deferring £123,000 against the fixed rental income. Investors will receive 10% of this cash input per annum for Years one to three, giving a fixed rental of £8,200, which is then drawn down to service the deferred amount. Whilst in Years four to ten, investors will receive 10% of the full purchase price per annum (£205,000) giving a fixed rental of £20,500, leaving a balance of £6,442.86 which is paid annually in arrears after the deferred amount has been serviced. The overall return on investment for this purchase option is 268%.
The rest of the properties can be bought via a 'full purchase option,' which can still allow investors to reduce the capital outlay, whilst offering attractive return on investments. For example, a lodge priced at £215,000 provides £21,500 annual rental income for Years one to ten with the first three years by deduction, reducing the capital total outlay to £150,500. At this price point, the return on investment is 125%.
Property owners are also assured a complete hands-off investment, with no extra costs during ownership. As an added bonus, investors are permitted to two weeks free usage per year, providing a chance to experience the adventure resort and everything it has to offer. This can be used for one week in the high season and one week in the low season.
Meanwhile, bookings of the lodge accommodation will be managed by Landal Greenparks – European leaders in providing lodge and chalet-park management and rentals – reassuring owners their properties' rental potential are being maximised.
The success of Wales' tourism sector means that investors can expect strong demand. Afan Valley Adventure Resort, which will be a national visitor destination, estimates that 5,000 visitors will visit the resort per week, as active holidays play a key role in attracting visitors to Wales, with 75 million day trips being made by British residents. Meanwhile, a recent report by VisitBritain noted two thirds of holidaymakers admitted they would skip a trip abroad in favour for a holiday in the UK, as it's less stressful, less expensive and allows for more family time – voting Wales as one of their favourite destinations.
Overall, Afan Valley Adventure Resort will be split into a total of six Zones. The main four ('Alpine', 'Forest', 'Xtreme' and 'Trax and Trails') host the lodges, along with indoor and outdoor activities. These include an aqua park with surfing, wave machines, white water rafting and deep cave scuba diving; an extreme sport centre; ski slopes and a skate park. Bike trails will also give an on-site experience for six existing mountain biking trails in the Afan Forest Park, which is already an European award-winning national mountain biking area. A Bear Grylls Survival Academy will be based in the Forest Zone – the first time it is a part of a resort. This adrenaline fuelled course will encompass a range of exciting challenges and lessons, from zip-wiring, cliff jumping and parachuting, to learning about essential rope and knife skills, making shelter and foraging for food.
Zone five is the 'Zen' area, which will boast a spectacular spa, promising a relaxing environment offering massages and spa treatments. Designed by one of the world's-leading spa designers – Heinz Schletterer – it will be the ultimate luxury for guests who want to recover from the challenges of the day or anybody who just wants to relax and unwind.
Meanwhile the 'Central Plaza' completes the set, which will be the heartbeat of the resort, allowing guests to wine, dine, shop and take a break from outdoor pursuits. At night, the centre will come alive with street parties, stalls, parades and live music. There will also be a variety of retail units which will feature iconic global brands, high street franchises and major food corporations. The five-star 'Tree Tops Hotel and Spa Retreat' will also be located in this zone. Guests can also enjoy a vast menu of indoor activities to include indoor water parks, bowling alleys, golf simulators and climbing walls.
Michael Reilly, Sales & Marketing Director at Select Portfolio comments;
"We are really excited to be a part of this project, because it's just not been done to this extent before. I can envisage adults and children having great fun all year round. By combining adventure, wellbeing and relaxation with contemporary living, Afan Valley Adventure Resort really is the playground of all playgrounds, and being an all-weather destination boasting a number of attractive benefits for investors, the super lodges offer a lucrative opportunity in a hugely expanding market."
Peter Moore, OBE, Chairman of Leisure, at Northern Powerhouse Developments comments;
"We are delighted that some of the world's leading specialists are now on board to bring the resort to life, such as Bear Grylls Survival Academy, Newman Aqua, Snowflex and Landal. We expect Afan Valley Adventure Resort to be completed in Q1 2021, and we have appointed, Aecom, who are internationally renowned for successfully implementing high-profile developments, to project manage delivery of the Resort. Together, we will provide one of the most spectacular tourism injections to Wales, and introduce to the nation, a totally new dimension of resort experience – one the market is clearly ready for."
Select Portfolio is now inviting investors to an event on 21st November 6pm-9pm to showcase the lodges and hotel rooms available at Afan Valley Adventure Resort. The event will be at Chel-Ski, London's largest indoor ski centre where there will be some of the project's key partners and developer representatives on hand to answer any questions. Pre-booking is essential. Please contact Select Portfolio on either +44 (0)1202 765 011 or enquiries@select-portfolio.co.uk.