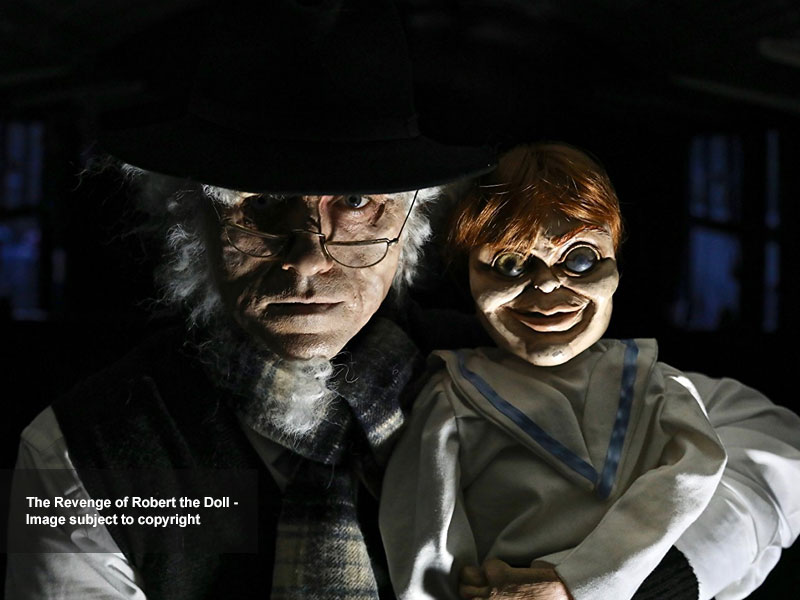 What does a horror movie director look like?  One wonders if meeting one in real life will be a spooky experience – yet many are unaware that Swansea is home to one of the most prolific horror film directors in the world.
Andrew Jones is not exactly a household name in his native town, but across the world, his films have a cult following among budget horror film fans.
Jones' first commercial release as a Director, The Amityville Asylum, reached number one in the HMV DVD chart in the UK, and he's been making successful horror films ever since.
Andrew this week celebrates his latest release, the Revenge of Robert the Doll – the fourth film in a hugely popular series based on a haunted real-life doll, which can be found in a museum in Key West.  Unlike many film-makers, though, you won't find Andrew partying or throwing Hollywood-style diva strops.  As one of the world's busiest film producers and directors, Andrew is hard at work on another 4 films due for release later this year and in 2019.
Having founded his company, North Bank Entertainment at the young age of 27, Andrew has since written 22 films, and directed 20 of them personally – and he's still only 35!  The talent clearly runs deep within the Jones household, his wife Sharron is a costume designer and highly regarded artist in her own right.
We caught up with the hard-working producer in between takes to ask how he manages to stay so successful, with such a hectic schedule.  Andrew says:
"I never actually went to film school, so I guess I followed an unconventional path.  I always knew I was going to work in horror film production, my first commercial film was part funded by the actors, who invested in it, but it was a bittersweet experience because of post-production arguments between directors, which meant it was never released.

"I therefore decided to produce myself.  The first film I produced, 'Night of the Living Dead: Resurrection', got picked up by Lionsgate and even had a limited run in UK cinemas – and every film I've made since has had sufficient commercial potential to create an audience.  My wife is passionate and creative, and together we inspire each other – and if the result of our inspiration looks creepy, we've done a fantastic job!
As for living in Swansea, Jones says he wouldn't want to live anywhere else:
"Directing, writing and producing is seen as glamorous, but often it's more about work!  I need peace and quiet to write, so we continue to live in Wales.  It's beautiful and allows me the peace I need to write movie scripts and work on post-production.  I wouldn't want to live anywhere else!"
The creepy horror films Jones is known for making couldn't be any further from the unassuming, quiet man that greets us.  Sharron and Andrew are welcoming and genuine, gently passionate about organic food and well, simply, great people, who make a living from producing scary films that the world loves.
The star of the 'Robert' films, doll Robert, is often found sitting quietly on a shelf close to Andrew as he edits his movies.  He looks far less scary in real life, a testament to the creativity of this quietly talented film-maker.   The Revenge of Robert will almost certainly be another success for North Bank Entertainment, but you naturally want to wish this couple the best of luck – not that they are likely to need it.
Watching how keen Andrew is to get back to his busy schedule editing the next film, you realise luck has very little to do with it.  Yes, they are lovely people who will inspire the best in others, yes they have talent by the bucket load, but the secret of the Jones' success is sheer hard work.
We'll certainly be watching the film – and we'll try not to jump, we promise!