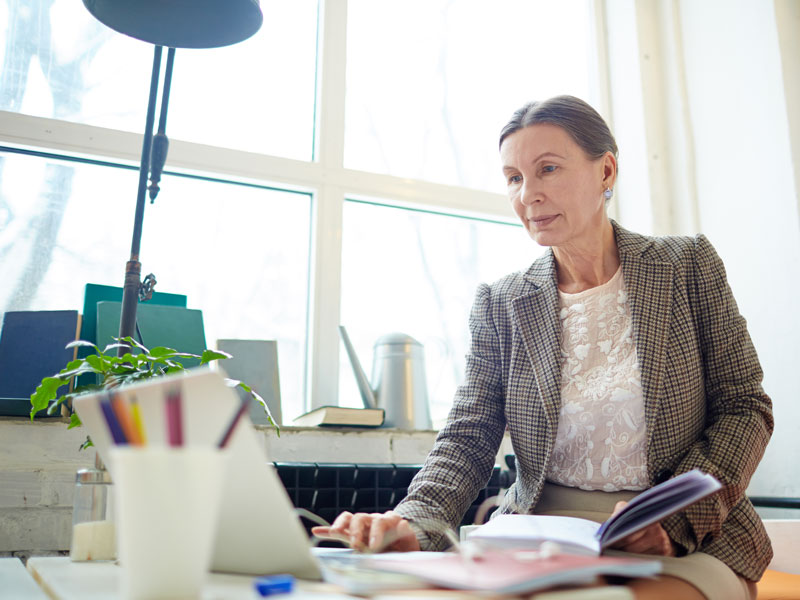 The proportion of those aged 65 and over who work has almost doubled since records were first collected, according to the Office of National Statistics.
By 2022, older workers will make up around one third of the Welsh workforce and at the same time the number of young people entering the job market is falling.
Businesses which don't take steps to retain their older workers, or encourage them to pass on their knowledge, risk huge skills gaps when their older workers retire.  The Welsh Government's 'People Don't Have a 'Best Before' Date' campaign is designed to highlight the importance of older workers to businesses in Wales and promote the need for wider skills development to help businesses and individuals to thrive and prosper.
The good news is that many Welsh Businesses already seem to understand this.  We spoke to a selection of welsh businesses who were happy to share the steps they were taking to attract and retain older talent.  Here's what they had to say:
Naomi Jackson, HR Coordinator at Zip World
"A large proportion of our workforce at Zip World is over the age of 50. As a seasonal business, our workforce varies quite a lot throughout the year, but we have people of all ages working for us and each age group brings its own strengths. Older workers benefit from a variety of skills and experience that come from working in very different roles.
"We believe strongly that age has no bearing on an employee's ability to do their job well and we offer flexible, and seasonal contracts that our employees can tailor to meet their individual needs and requirements. Requests for flexible working are handled on a case-by-case basis, but we are always happy to begin the process and accommodating the circumstances of our valued older employees is a top priority for us."
Steffan Thomas, Marketing Director at Galeri, Caernarfon
"Around 20% of our workforce at Galeri Caernarfon is over the age of 50. Many of our older staff members have been with the company for a number of years and are in managerial roles that are integral to the smooth and successful running of the company's various activities. As managers, of course an important part of their role is to not only motivate, but to train and offer guidance to our more junior staff members, and their years of experience and knowledge of the company are invaluable assets in preparing the next generation who will eventually take over the running of the social enterprise."
Linda Dowling, Owner of Bryan Williams Jewellers, Pwllheli
"A lot of our older members of staff have been working for us for years. As a small, family-run business, our sales assistants are the face of the company and it's important that they're friendly, that they care about the products and that they share our values as an independent retailer.
"Because we sell a lot of high value items, it's also essential we know we can trust our sales assistants. It's therefore really important to us as a business that our older members of staff are happy in their jobs, because it would be difficult to replace them if they decided to leave. We're happy to offer flexible and part-time working to any members of staff who ask for it to help them maintain a good work life balance, or accommodate any changes in their circumstances."
Susan Powell, HR Manager at Chapter Arts Centre, Cardiff
"We have noticed that our workforce at Chapter is ageing, and a number of our older members of staff have requested flexible working which is something we're happy to support. Many of our older employees have been with us for years so they're important members of our team and would be missed if they decided to leave. I think we'll see a trend where fewer people choose to retire but instead reduce their hours as they get older. I'm in this category myself, I want to keep working but don't want the full-time stress of the modern workplace."
Mike Hayden, Head of SME Banking for Barclays in South Wales
"The older generation adds so much value to the workplace in any context – bringing a wealth of experience and industry contacts to the table. As well as suitable employees, they are also making a big impact as business owners – "olderpreneurs". Barclays Business has found that far from being ready to retire, many over-50s and over-60s are proving it's never too late to fulfil ambitions of being their own boss. Barclays data reveals there has been a 140 per cent increase in the number of business owners aged 65 and over in the last decade – the fastest-growing age group.
"At a time when they could be planning for retirement, the over-55s are utilising their skills by putting their wealth of experience and business knowledge to use, breaking down stereotypes in the process."
Steven Madeley, General Manager of St David's Centre, Cardiff
"Diversity in the workplace is important and as the heart of the city centre, it is imperative that we have a workforce which is representative of our customers. We pride ourselves on our multigenerational workforce and believe that we can provide excellent service to all customers as a result."
Mark Malson, Head of Human Resources at South Wales Fire and Rescue Service
"The impact of an ageing workforce is a key consideration for South Wales Fire and Rescue Service. We recognise that retaining and attracting the experience and knowledge of older workers brings significant value to meeting our core objectives of reducing risk and keeping the residents, businesses and visitors in south Wales safe.
"The Service is developing employment practices that are relevant to an age-diverse workforce, providing for equally valued personnel with the flexibility and choice to retain older workers. These allow them to continue to progress in their careers, learn new skills and access progression opportunities."
Jonathan Lee, Managing Director of Opinion Research Services, Swansea
"At Opinion Research Services, our employment policy has always recognised the importance of having a diverse workforce, including the business benefits of having older colleagues with a range of experience. Our current team ranges from recent graduates to older team members with broad business backgrounds and research-specific knowledge that offers "added value" to our clients. Being a flexible employer and enabling older staff to work reduced hours allows us to benefit from their vast experience whilst managing our costs. We also find older staff value our work ethic; this in return results in their increased commitment as well as them being flexible and responsive to business need."
Tamsin Jones, HR director at Confused.com, Cardiff
"We are now entering a world where we have a five-generation workplace, of which each age group has different wants, needs and expectations. As an organisation, it's important we are responsive to this.
"The key focus for Confused.com is to be able to respond to the diversity of all of our employee's needs and ways of working, whatever their age. Sustaining a high performing commercial business means retaining valued members of staff. We do this with a range of initiatives, such as our in-house training academy and mentorship system, as well as supporting career breaks and movement throughout the business.
"We encourage a 'job for life' way of thinking and use the divergent experience and skills that different ages bring to the table to our advantage."
Julian Cruttenden, Sales Manager at Welsh Hills Bakery, Aberdare
"We have people over the age of 50 working within all levels of our business. As a family-run company it's important to us that our staff members share our values and vision, some of our older workers have been with us for many years and we wouldn't have reached where we are now without their dedication and first class skills. If they decided to retire we would lose those vital skills, so we're happy to support our older workers in any way we can including offering flexible and part-time working."
Charles Bevan-Barratt, Manager of Capitol Shopping Centre, Cardiff
"We've definitely seen a trend at Capitol towards our older employees staying in work for longer, we operate an equal opportunities policy and currently employ several people who are past pension age. We expect that number will grow over the next few years – I intend to work past the age of 65 myself. Changes to the pension age have undoubtedly contributed to this, but people are also starting to live for longer and attitudes towards work and retirement are changing as well, young people now expect to work until they're much older."
Laura Toscano, HR Specialist at GE Aviation Wales, Nantgarw
"At GE Aviation Wales we recognise how age diversity can add real value, not only to our revenue and sales growth, but also in contributing to a healthy working environment – having an intergenerational workforce brings varying perspectives to the workplace, diverse skill sets and mentoring to those coming into the business."
Jo Nugent, Sales and Marketing Manager at The Angel Hotel, Abergavenny
"We employ around 25 staff who are over the age of 50 and they work in all aspects of the business, from front of house to accounting. They certainly add value through their experience, which helps with mentoring younger staff and remain calm under pressure, which is key in our industry. Our customer base is vast in terms of age, and we feel that it's important to reflect this in our workforce as this gives us an advantageous insight into their needs and priorities. We recognise the value in upskilling all our staff and offer regular training and mentoring sessions, such as one-to-one personal development plans and hospitality qualifications."
Employers are encouraged to invest more in the skills of their workforce and individuals of all ages are encouraged to develop the skills they need for a successful working life.
For employers looking for more information on how they can invest in the skills of their older workers, the Welsh Government's Skills Gateway for Business – https://businesswales.gov.wales/skillsgateway/ has a range of advice and guidance.