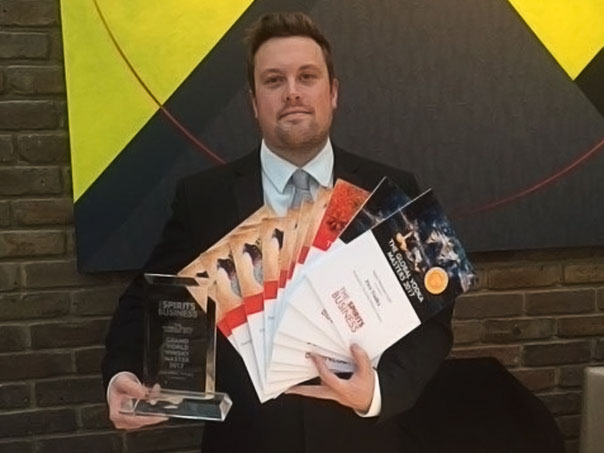 Penderyn Distillery has been awarded World Whisky Grand Master 2017, which is a truly significant achievement, topping a great year of awards success for the Brecon-based distillery.
The company saw their profile rise throughout 2017, their Brecon Special Reserve Gin won gold at the London-based Spirits Business Global Gin Masters; and two of their single malt whiskies, Sherrywood 46% and Rich Oak at 50% won gold at the Meiningers International Spirits Awards ISW in Neustadt an der Weinstraße in Germany.  The company's clean tasting Brecon FIVE Vodka won gold at the International Spirits Challenge in June – and the distillers also featured in BBC1 programme Escape to the Country.
Only four of the prestigious World Whisky Grand Master awards are handed out by The Spirits Business each year.  Rob Weller, Sales Manager, who was honoured to collect the trophy at an awards lunch in London said:
'It was a great event and to pick up this award with the whole whisky industry looking on was a great honour for Penderyn, and also a little nerve-wracking for me!'
The Company have seen the The Spirit Masters series has fast become one of the most respected and high profile trade competitions in the industry, attracting vast amounts of entries from leading brands all over the world. Penderyn were awarded the title for the very high standards of the following award-winning Single Malt Welsh Whiskies – Legend, Celt, Myth, Madeira, Sherrywood, Rich Oak, Portwood and their Rich Oak Single Cask. The Judges were chaired by Amy Hopkins (Deputy Editor, The Spirits Business) and Melita Kiely (Senior Staff Writer, The Spirits Business) and featured writers and judges from across the industry.
Stephen Davies, Penderyn's Chief Exec, said the team were thrilled with the awards success:
"it's fantastic that our gin and single malt whiskies have again been recognised as among the finest in the world."
The company are now looking forward to further success in 2018.