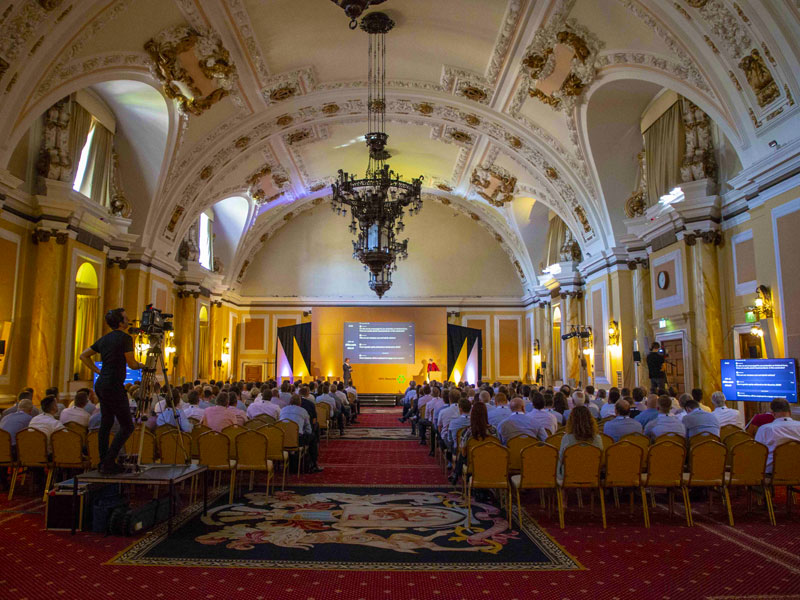 Sustainability played the central theme for Willmott Dixon's Wales & West Annual Conference last week, which saw over 350 delegates attend Cardiff City Hall to a packed agenda, including a keynote speech from Jonathan Porritt, co-founder of Forum of the Future, author, broadcaster and commentator on sustainable development.
Other topics discussed included innovation; narrowing the performance gap; gender diversity; community investment and partnering for scale and impact.
The conference, 'Building Lives Less Ordinary' saw Cardiff City Hall play host to a line-up of expert speakers including Rob Holdway, Founder of Giraffe Innovation; Hugo Tagholm, Chief Executive of Surfers Against Sewage; and Paul Toyne, Commissioner, non-executive director and independent adviser to business on sustainability issues.
Neal Stephens, Managing Director for Willmott Dixon Wales & South West, which employs a 140-strong workforce at its Cardiff Bay office, and a total of 290 people across the region, commented:
"Sustainability is making a difference to the lives of people local to our projects"
"Sustainability plays an important part in all of our lives; it's in everything we do and is a far reaching topic – one that is everyone's responsibility, personally and corporately.  This is why we invited our partners to join the discussion; we know that in order to be successful we all need to be moving in the same direction.
For Willmott Dixon, a big feature of sustainability is making a difference to the lives of people local to our projects. We believe that we have a purpose beyond profit, and the energy, passion and commitment of our people can strengthen society's well-being beyond the buildings we create. This was recognised by Willmott Dixon being the only construction firm to be awarded the Queens Award – Promoting Opportunity this year.
"This conference was about discussing our future together as an industry, and sustainability must be top of our agenda. Our conference has provided us with the opportunity to really challenge delegates to think about what sustainability means to everybody at work, in the office or on site – and not least at home with their families."
Willmott Dixon's non-executive director Jonathan Porritt, who describes his role on the board as Chief Complacency Buster, provoked debate and provided an excellent platform for the other speakers. He opened the conference stating
'Whilst we are doing OK, we not doing nearly enough. Construction is an institutionally wasteful and irresponsible industry'
With delegates travelling from around Wales and the West to hear the latest thinking on these important areas, Willmott Dixon Wales and West employees, along with their customers, supply chain and consultants had the chance to network and interact with key speakers, as well as participate in educational workshops.
Guests also had the opportunity to hear from Willmott Dixon's professional panel, which included Gemma Welsher, Diversity Lead and Director Designate, Andrew Dobbs, Director Responsible for Sustainability and Jo Charles, Head of Sustainability and Social Value.